Language: it's child's play!
Part one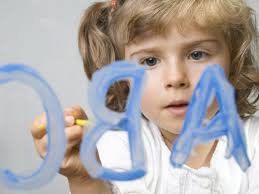 At university, for my degree in languages, I studied language acquisition and how this differs depending on whether it is your first or second language, and how old you are when you start learning. There are many theories about how we acquire language and when is the optimal time to learn a second language. One such theory is the critical period hypothesis; a discussion around the ability to acquire language linked to your age. This is a whole article in itself, so we won't go into it here, but I do want to look at briefly how children start to talk.
My nephew is now three years old, and we can't shut him up! He's constantly jabbering away to his family or to himself, asking questions, telling stories about tractors and the Hulk (his favourite Avengers character), but I remember the days when he would simply grunt and smile and babble contentedly. It's always interested me how a baby gets from this stage of making noises to actually forming proper sentences. They don't get any formal education as we do in schools when learning a language, so how do they do it? Here we'll look at some of the stages they go through when learning their mother tongue…
First of all, what is language acquisition?
Language acquisition is the process in which humans acquire the ability to understand and to communicate in a language. We are unique, as humans, in being able to do this. In this article we will be looking at first language acquisition i.e. a child's learning of their native or mother tongue. Second language acquisition will be the focus of a subsequent article.
Children are like sponges
Children will pick up not only on mannerisms and behaviours of people and things around them, but also on language traits, accents and dialects of their family, caregivers and later on peers. At first, they will speak like their parents/caregivers but later, once they start mixing with other children and adults, will pick up on local grammar and accent peculiarities. But, we're jumping ahead of ourselves here! Let's start at the beginning…
According to whichever linguist or academic's work you are reading there are various stages to language acquisition. What they do agree on is that the stages are not always highly distinct and most overlap. Stages can include (and please excuse the over simplification of these):
Stage one (approx. 0-20 weeks old)
Studies have proven that whilst the baby is still in the mother's womb it can recognise its mother's voice. Scientific research has also shown that playing music to the unborn child can help develop the brain.
Once the child is born its main form of communication is crying (delightful!). They may also start using noises with 'a' sounds.  They can make basic noises
Babies then gain control of their tongue and start to form sounds such as 'ga-ga'. They also start to laugh and can express themselves by laughing.
Stage 2: (approx. 20-50 weeks old)
More consonant and vowel sounds come in to play and babies start what is known as a 'babbling' stage, stringing sounds together such as 'da-da-da'. This is when parents think their child has learned how to say 'daddy', when in fact the child is simply experimenting with different sounds (sorry to burst the bubble here!).
Stage 3: (approx. 10-13 months old)
Children start to understand that what they utter can have a meaning, and they start to use some words in order to get something they want, for example, or to attract someone's attention.
Stage 4:  (approx. 12-24 months)
Language development happens quickly and children acquire vocabulary. They will make 'holophrastic' sentences, which are not grammatically correct e.g. 'daddy gone'.
This development is then followed by the child beginning to form questions, such as 'where gone?'. Children also tend to 'over extend' the meanings of words, for example using 'tractor' to denote any vehicle.
Stage 5: (over 24 months)
The child's vocabulary continues to grow and they begin to use verbs more frequently, they can refer to the past more frequently and create more complex sentence structures.
As they continue to learn they learn through trial and error. They can negate sentences, use modal verbs e.g. 'can I?', they can explain things and can generally communicate themselves sufficiently in the context/situation in which they find themselves.
Further stages
Evidently language learning doesn't stop there and children continue to learn the intricacies and wonders of their native tongue.
That's all we have time for this week. Stay tuned for further parts!
Sources
http://www.thestudentroom.co.uk/wiki/Revision:Child_Language_Acquisition_-_Speaking
http://linguistlist.org/ask-ling/lang-acq.cfm