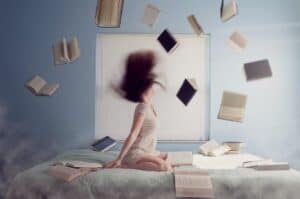 Are you a productivity geek? Are you obsessed with time-management hacks to pack more and more into your hectic schedule? Maybe you are one of those people who listen to podcasts on 1.5 speed, or who reads up on methods like 'eat the frog' (getting unpleasant tasks done first on your never-ending to do list). I'll admit to being something of a sceptic and am currently absorbed in Oliver Burkeman's Four Thousand Weeks, which argues against trying to master time by cramming more and more in. I suspect he would not be impressed by the subject of this week's blog, a technique that claims to make reading more efficient: Bionic Reading®. With the tagline "Faster. Better. More Focused", this is an API that converts text into a format which the creators claim is easier for the brain to process.
The basic premise of Bionic Reading appears to be that by highlighting the first few letters of a word in a bold font, the brain is supplied with the crucial information it needs, allowing it to fill in the complete word without having to process the entire orthographic form. The creators claim this acts as a shortcut that is faster than standard reading, avoiding the need for visual and cognitive processing of the entire lexical item.
In addition to claiming faster reading speeds, the inventors of Bionic Reading suggest the tool results in "more in-depth reading and understanding of written content". They also claim people with dyslexia could benefit from texts being reformatted in this way. My first encounter with the tool was via a Twitter user with ADHD whose suggestion that Bionic Reading could benefit neurodivergent readers went viral.
More research is required to back up these claims, and it would be amazing if the typeface did indeed facilitate access to written text for anyone who struggles with reading. However, I was struck by the contrast between the apparently laudable aim of promoting "reading and comprehension of textual content in a hectic and noisy world" and Burkeman's perspective on reading as a necessarily time-consuming activity that "largely operates according to its own schedule". Burkeman cites anecdotal reports that people are finding it increasingly difficult to concentrate on reading books in the way they used to. He describes this in the context of our growing obsession with time and efficiency, suggesting there is something akin to a "revulsion at the fact that the act of reading takes longer than [people would] like".
The ultimate message in Burkeman's book is that we should stop fighting time by trying to cram more in. He urges us to give up on our efforts to master our schedules, pointing out that we are deluding ourselves if we think there will ever come a moment when we really have everything under control. Reading, in his view, falls into the category of things that should not be rushed, an activity that requires us to "surrender to the reality that things just take the time they take".