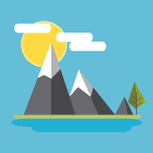 As any parent will attest, trying to go places with small children in tow can be a challenge. Attempting to persuade them up and down Welsh hills in inclement weather for no apparent purpose other than to enjoy the scenery and you can soon have a mutiny on your hands. As a veteran of techniques to cajole small to medium-sized children on countryside walks, I can attest that the best possible bet is distraction. Snacks are good. Games of eye spy are fine, albeit potentially limited once you've ticked off 'grass', 'sheep' and 'clouds'. But nothing can rival the alphabet name game, which can be strung out for a good mile or two before the moans of "how far is it" and "my feet hurt" start up again.
In its most basic form, the alphabet name game involves each player in turn naming something (a famous footballer, country, city, animal, item of food etc.) beginning with a particular letter. The first player begins with the letter 'A' (e.g. Argentina) and you work through the alphabet in order. To make things harder and extend the game (hence successfully prolonging the distraction) you can get every player to name something with every letter. The person who goes last gets the hardest deal, particularly when you hit the more unusual letters. Some advance agreement over what to do about "X" and "Z" may be required!
We have successfully deployed this game to cover many miles of hiking and endless car journeys. So, in the interests of public service, here are the most successful alphabet naming categories.
Top of the list is a sport of your choice. For us, this is invariably cycling due to our youngest child's encyclopaedic knowledge of the great and the good of professional road cycling. We have also been known to branch out to the more esoteric "Pro cycling teams, past and present" and "cycling accessories". The latter lends itself to wild imagination if you've ever read Quentin Blake's Mrs Armitage on Wheels, who gradually loads her bicycle with more and more improbable accessories, including a cassette player and a mouth organ!
Singers and pop groups is another rich seam and a source of cross-generational dispute as the young teens name musicians with allegedly megastar status that the parents have never heard of.
Food and drink are also good options and can be refined to make the category more challenging for older players, for example by restricting them to vegetables or Italian food or pastries.
Finally, for the ultimate parental humiliation and child triumph, nothing can beat our recent foray into the name game with "stuff in Minecraft". Successful parental contributions were wildly celebrated, so 'd' for 'dragon' was permitted with "yeah there's the endodragon, good job Dad!"  While mum's suggestion that if there were cows, surely there must be dung, prompted much hilarity! My indignant riposte that dungless cows were impossible was met with the reminder "it's not real life Mum". Meanwhile, the letter 'g' for 'ghost' brought out the pedantic correction that strictly speaking Minecraft has ghasts. A subsequent check of the fandom wiki reveals that a ghast is "a large white floating ghost-like hostile mob in the Nether that shoots explosive fireballs at the player". Parental education complete.