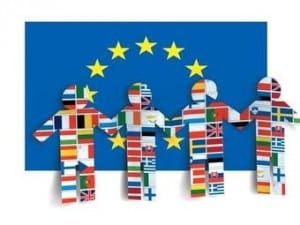 A couple of years ago we wrote about the European Day of Languages and what it was all about (read the article here) so I won't repeat what has already been written. But as the 26th September approaches us once more, I thought it would be a good idea to revisit the idea behind the Council of Europe's initiative from a slightly different angle.
What do languages mean to you? For me, knowing a language means I have a tool to open many cultural, professional and personal doors. With a foreign language securely (or perhaps even loosely) under my belt I can communicate with people from countries I may have been ignorant to before.
Before a recent trip travelling throughout Latin America I ramped up my Spanish learning, attending classes, talking with conversation partners and listening to music (there's nothing quite like a Latin beat to get your hips, and lips, moving!). Having some vocabulary and knowledge of Spanish helped me immensely. And not just on a daily, practical 'can I have a pint of beer' level, but in understanding the communities I was living in- albeit temporarily- and to scratch a little more under the surface to what that country was about.
According to the EDL website at least half of the world's population is bilingual or plurilingual, and that is certainly the case within the translation community and many European countries. However, in the UK and Ireland, sadly 60% and 61% respectively of the population are least likely to speak another language (Italy – 62% and Hungary- 65% are worse culprits). The European Day of Languages is a great way to encourage people to reduce this statistic and to foray into the world of language learning.
The value of language learning is immense, and the Council of Europe's Day should not just be thought about only once a year. Not only does knowing a language help us to experience life in a more fulfilling way, it can also help us on a professional, personal and physical level (studies of the brain have shown a lower risk of dementia in language learners).
Languages are fascinating, living and breathing beasts. They're constantly changing, evolving and reflecting the culture and times of the society in which they are used. The intricacies of idiom, vocabulary and such like never cease to amaze me. Most languages have unique words that can't be directly translated, how about the English 'higgledy-piggledy'? Or the German 'Schadenfreude'? It's these kind of idiosyncrasies that keep me interested.
With 23 officially recognised languages in the European Union and more than 60 regional and minority languages, which one will you learn next to help the Council's plurilingual Europe goal to be achieved?
To help you on your way, here is a short language quiz. Do share your answers with us!
Name two Romance and two Slavic languages.
In which country is Cymraeg spoken?
What are the two varieties of Modern Norwegian?
What are the official languages of Luxembourg?
Which language family does Estonian belong to?
http://www.theguardian.com/news/datablog/2014/sep/26/europeans-multiple-languages-uk-ireland