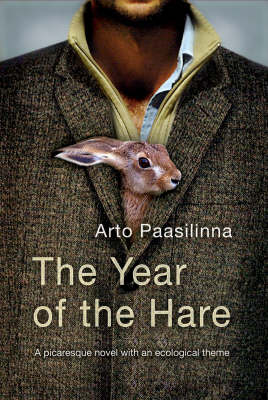 On a friend's recommendation I recently read The Year of the Hare by Arto Paasilinna, translated from the Finnish by Herbert Lomas. This delightful and hilarious book recounts how a dissatisfied journalist walks away from his job, his wife and his home in Helsinki to care for a young hare, which he accidentally runs over in his car. I was particularly interested in finding out more about this translator because the text reads so beautifully. I found myself wondering if the translation's distinctive style had captured something quintessentially Finnish in its pithy, pared back tone.
At any rate, I was not surprised to find out that Herbert Lomas was himself a poet because the language in the translation has a particularly dense and potent feel to it. As my friend put it "like a fine stock which has been simmered and reduced to create the perfect flavour".
In a wonderful piece published after Lomas's death in 2011 by the literary journal Books from Finland, the editors reflect on his thoughts about literary translation. When considering the question of why an author might bother with the task of translating someone else's work, Lomas was initially hard-pressed to find an answer, saying "the pay's absurd, one's own writing suffers from lack of time, it's very hard to please people and translation is, after all, the complacent argument goes, impossible." Lomas was also quick to point out the miniscule public demand for translation from minor languages into English when he began tackling Finnish literature. But he was also able to pinpoint the pleasure of grappling with someone else's words: "You have the pleasure of writing without the agony of primary invention. It's like reading, only more so. It's like writing, only less so."
When asked about the differences between Finnish and English and the challenges presented in translating from one to the other, Lomas reflected on the far larger vocabulary available in English and commented that, as a consequence, "crucial decisions are being made with every word". He could also see the potential benefits of translation work for his own poetic endeavours, comparing translation to practising scales on a piano and saying "it may extend one's knowledge of what poetry can be".
As for the contrasting syntax in Finnish and English, Herbert Lomas is particularly entertaining: "Finnish loathes to put things in […] a stereotyped order and employs fifteen cases in order to confuse not only foreigners but the tongues of its own native speakers. I think Finns speak slowly, not only because their words are long and mellifluous, and because they have been taught never to speak without thinking, but because getting their teeth round their Ciceronian sentence-structure is no joke."
In later life Lomas was able to admit that although the pay was still absurd and people were still hard to please, there was at least a growing market for literary translations. Certainly the Year of the Hare is as fine a place to start as any.
References
The Year of the Hare, Arto Paasilinna, translation by Herbert Lomas published by Peter Owen Publishers in 1995
http://www.booksfromfinland.fi/2009/11/poetic-excercises-by-the-sea-herbert-lomas-revisited/
http://www.booksfromfinland.fi/2011/11/a-thankless-task/#more-16332