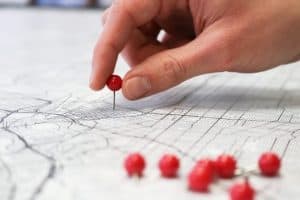 A few years ago, my eldest daughter and I set ourselves the task of hiking the North Downs Way, a long distance trail which takes walkers from Farnham to Dover via the Surrey Hills and over the Kent Downs. The aim was to do a couple of days at time, gradually covering the 153 miles over a period of years. Our project got rather abandoned during Covid but was finally picked up again this autumn and, as we pottered down to our starting point, I found myself wondering aloud why it is called the downs when the key feature is the very opposite, namely a ridge of hills. The answer should have been obvious to someone fascinated by etymology. The word downs is derived from Old English dūn, meaning "hill".
This discovery prompted another penny drop moment, namely that the English word dune has similar origins. In this case, the historical lexicology suggests the word may be in part a dialectal variant of down and partially a linguistic borrowing with roots in Old French (dune), Middle Dutch (dūne) or Middle Low German (dûne), all of which ultimately go back to Proto-West Germanic *dūn, probably derived from Gaulish dunum ("hill"), from Proto-Celtic *dūnom ("stronghold, rampart"). This immediately took me to the modern-day Welsh word dinas, meaning "city" derived from din, an obsolete word for fort or stronghold (and yes, derived from the same Proto-Celtic root *dūnom). In the space of just a couple of minutes it was like uncovering an epic linguistic puzzle. Suffice to say my daughter did not quite share my enthusiasm and was almost relieved when Box Hill hoved into view to save her from my lecture on the treasure trove of historical linguistics.
As we puffed and panted our way up the aforementioned hill (which by the way apparently owes it name to ancient box woodlands rather than rectangular crates or other packing), another thought occurred to me, which is the way geographical locations tend to hang on to their names while language and culture shifts around them. As a result, the names of places and physical features offer a kind of etymological treasure trove where remnants of long-lost linguistic features linger on.
We finished that day's walk in the historic village of Merstham, now bordered by the rather modern features of the M25 and M23. The classic -ham suffix that features in so many British place names has a dual etymological origin reflecting the convergence of two Old English terms: hām meaning "home, farm, estate" and hamm meaning "enclosure". A reference to 'Mearsoetham' can be dated back to AD 947 and is translated rather poetically as 'dwelling of the people of the marsh'. There was no evidence of marshland as we trotted in and out of the village for much needed food supplies, but how lovely to have the original landscape captured in the name even as the surroundings have changed beyond all recognition in the intervening centuries.
Photo by GeoJango Maps on Unsplash