While digging into a bit of historical linguistics, I was reminded of the fact that Frisian is English's closest relative on the continent, with Scots staking a claim to a similarly close kinship within the British Isles (assuming you are prepared to classify Scots as a language in its own right and not merely a dialect – but that is an argument for another day). The article I happened to be reading claimed that Frisian is sufficiently similar to English that you can buy a cow in Friesland by speaking in Old English. A link to a YouTube video of Eddie Izzard performing precisely this feat was provided, filmed as part of the 2003 Mongrel Nation series about English culture and identity.
Eddie sets off to Friesland in search of a farmer to address in Old English, speculating that Frisian and Old English will be sufficiently mutually intelligible to facilitate a commercial transaction. After an initially awkward exchange, the farmer does indeed seem to get the gist of Eddie's aspiration to acquire a "brune cu", although the subtitles reveal a slight misunderstanding over the subtlety of the animal's capacity for milk production! Eddie and the farmer eventually stride away supposedly planning to complete the sale, although sadly we do not get to view the price negotiations or eventual purchase.
One of the obstacles to communication is not so much any potential difference between Old English and Frisian but Eddie's own limited linguistic abilities in the former. The farmer seems to comprehend Eddie's stilted Old English delivery, but when the response is delivered in fluent Frisian, Eddie is regularly flummoxed! It is still a fun watch, and Eddie is surely one of Britain's greatest ambassadors for multilingual content.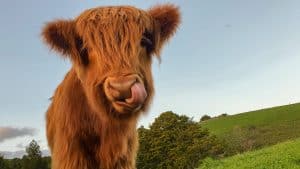 If you are after a more detailed review of the similarities between English and Frisian, blogger Amarens Elise describes how this "secret brother of the English language" evolved from the same linguistic parent as English, namely Anglo-Friesian. Dutch, on the other hand, evolved from Old Low Franconian, with Western Germanic being the common parent for Dutch, Frisian and English. In terms of phonological development from their common Proto-Germanic parent, English and Frisian both drop the nasal sounds before voiceless fricatives, e.g. soft/sêft, us/ús, goose/Goes (compared to contemporary German sanft, uns, Gans). Another shared phonological feature is the palatalization of /k/ before front vowels, e.g. chin/tzinn, (compared to German Kinn) and palatalization of /g/ before front vowels yesterday/juster (compared to German gestern).
Over the years since the two languages "parted company", English has been heavily influenced by French following the Norman Conquest, and Frisian has been impacted by its close neighbour Dutch. But it's heartening to know that scholars of Old English in search of a bovine companion will prosper in Friesland.