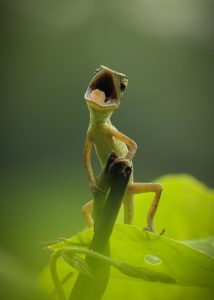 My daughter recently revealed that a friend had become an unlikely corona virus lockdown hero by adopting two geckos that were due to be "disposed of" due to the closure of her local pet store. This was the perfect excuse for my husband to recount for the thousandth time the story of how he once got into his sleeping bag while travelling in Indonesia to find that a gecko had beaten him to it. Much hilarity ensued as he attempted to extract himself at speed. More importantly for the purposes of this blog, this prompted a family brainstorm about animals named after the sound they make. "Gecko" is thought to come originally from Malay geko, gekok, imitative of the cry the animal makes. This led to an animated discussion about sounds and animal names.
Off the top of my head, I immediately came up with chiffchaff, but a visit to Wikipedia to listen to the audio clip of the bird in action suggests a liberal amount of artistic licence was needed to get from the birdsong to the phonetic interpretation. A quick Google search suggests birds are the most likely species to be named after the sounds they make. The cuckoo is probably the most obvious and, in this case, it takes rather less imagination to get from the bird version to the English interpretation. The short "u" like vowel sound followed by longer "oo" sound can be clearly detected in the bird's distinctive song.
The chickadee is also often cited as being named after its birdsong but, once again, this is far harder to correlate with the phonetic realisation. In many of the chickadee audio clips linked in the sources, I can hear four syllables rather than three and any correlation with English vowels is tenuous to say the least. James Harbeck gives a delightful rundown and analysis of more birds (and other animals) and the cries they are named after in the article in The Week linked below.
My favourite discovery in this genre is undoubtedly the dik-dik, which actually refers to four species of antelope that live in East Africa. They are unfeasibly small at just 30-40 cm in height at the shoulder, weighing a mere 3-6 kg.  Once again, it is debatable how well the name mimics the sound they make. At least to my ear, the dik-dik's cry is more like an asthmatic sneeze. However, their long narrow noses possibly help produce something approximating a close vowel like English [i].
Finally, no piece on sounds and animal names would be complete without mention of the "Zyzzyx", a type of sand wasp named after the sound it makes while flying. Hats off to US entomologist Vernon Pate, who coined the name. The only shame is that scrabble sets do not include enough Zs to make this a possibility.
https://theweek.com/articles/460668/think-animals-say-names-are-wrong
https://www.allaboutbirds.org/news/
http://petslady.com/article/call-me-cuckoo-top-10-animals-named-after-their-sounds