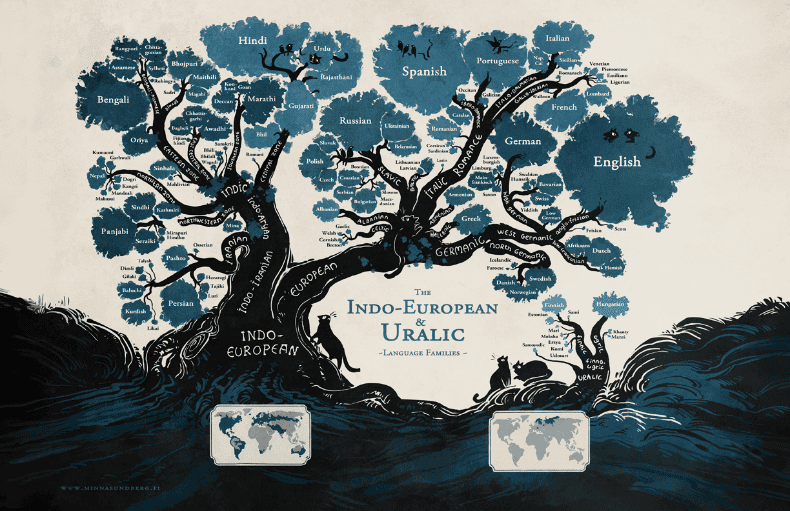 For a little while now, I have been contemplating writing something about the way different languages are related to each other. Then I stumbled across this beautiful linguistic family tree and I knew this was the moment. What a glorious thing it is. If ever a non-linguist asks you why French shares so much vocabulary with Spanish but not so much with Dutch, here's the perfect prop for illustrating your answer. If this doesn't get them hooked on historical linguistics there is no hope.
The illustration comes from the online comic series "Stand Still. Stay Silent", described by its author, Minna Sundberg, as "a post-apocalyptic webcomic with elements from Nordic mythology, set 90 years in the future". The series has been running since 2013 and is updated several times per week. Warning: it is a veritable internet rabbit hole, just in case you have any urgent project deadlines looming!
I have spent ages poring over the details in this beautiful picture. My mother tongue is English, but I grew up in the Welsh-speaking heartlands of Ceredigion, learnt French very briefly then settled on German and Spanish for my degree subjects and had a brief dalliance with Swedish while studying at a German university. So I feel fairly familiar with these bits of the tree. I understand why most of my fellow Spanish students at university paired it with another Romance language, such as French or Italian, rather than a Germanic language. I know why even my very ropey Welsh vocabulary was often of more use when deciphering Spanish texts than my German. I also had a good understanding of why Swedish seemed less of a challenge than Spanish given my knowledge of German and English.
Perusing the Indo-Iranian branch of the tree, I find myself in highly unfamiliar territory. But how mesmerising it is to wander the different subsections, from Persian to Punjabi, over to Bengali, Bhojpuri and Bagheli via Rajasthani and Romani before ambling back down the trunk to re-join the European family.
I love the little Uralic sapling Sundberg has included in her illustration, a reminder of her Finnish-Swedish roots. This depicts beautifully why Finnish is so fiendishly difficult for speakers of other Western European languages. It often surprises non-linguists to discover that Finnish and Hungarian are in a linguistic branch all of their own when compared to the other European languages. It certainly isn't obvious from looking at a geographical map. To understand the reasons, you need to look at the languages' supposed common origin east of the Ural mountains. Having said this, Finnish and Hungarian parted company sufficiently long ago that any remaining connection between them is far from obvious to the uninitiated.
I would also have loved another little sapling showing Basque out there growing all on its lonesome. I've always been charmed by the idea of a "language isolate", unrelated to any of the other European languages, or indeed to any other known living language,  but maybe that's a blog post for another day. At any rate, fans of the Sundberg's linguistic family tree can find it for sale at her website. I think I might be adding it to my Christmas wish list!
Sources