Languages in focus: Basque – Part One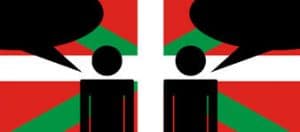 I'm spent a few days in Northern Spain (around Bilbao) this August with some Spanish family and friends who speak Basque. I'm intrigued by this language; an 'island' of a language surrounded by others which have nothing to do with it. Having also walked some of the Camino de Santiago a couple of years ago I was then confronted by signs and communications in this language and couldn't see much, if any, correlation to the Spanish written beside it. So, in this article and the next, I will be taking a look at the facts and talking to both a language learner and native speaker to find out more.
Firstly, lets take a look at what this language is all about…
Name: Basque or 'Euskara'
Origins: Pre-Indo-European – unrelated to any other known language!
Spoken by: approx. 800,000 speakers (approx. 90% speakers are in Spain and the rest in France)
Spoken in: the 'Basque Country' (either side of the Western Pyrenees in Spain and France)
The exact origins of the language are not really known, but it is thought it pre-dates the Indo-European languages (e.g. the Romance languages) that arrived in the area. Although it has been influenced by Romance language vocabularies over the centuries, it remains very much a language isolate (a language with no demonstrable genealogical relationship with other languages- Korean is another one!). In more recent times, during much of Franco's regime in Spain from 1936-75 the use of Basque was very much frowned upon and associated with separatist movements and groups who didn't support Franco's dictatorship.  However, since the 1960s the Basque Language Academy developed a standardized form of the language in order to promote education and the printing of texts in the Basque language. Though there are several dialects across the region, this standardized version is still in use today, particularly in printed educational, literary and media materials.
So, with such a small population of speakers and area in which to speak it, why would you want to learn the language? I asked Matt Doughty this very question. His answers follow:
Matt, as a native English speaker, with fluent Spanish why did you decide to learn Basque?
Put simply, because it's the language of the country where I'm living and to integrate fully into the culture in any place, one of the best ways to do so is through the language. I have many friends who are Basque speakers and this gives me a point of entry into their culture. This is important to understand how a society works, especially one as diverse as that in the Basque Country, in order to fully access and appreciate the richness of that society. Another, less important reason, is to work in the public sector. One day I'd like to work as an English teacher in the state education system here (I'm currently working in a private language school), and to do so you need to be at C1 level Basque.
What difficulties have you found learning the language in comparison to Spanish for example?
Curiously, the most difficult aspect of learning Basque is the presence of Spanish itself. Here, as everybody knows Spanish, it's always there to fall back on if you're finding it difficult to communicate in Basque. Also, in the major urban centres and particularly the area around Vitoria-Gasteiz, near where I live, you generally don't hear much Basque being spoken so you don't feel the need to speak it. When I really learnt Spanish, after coming to live in Spain, I was surrounded by people who spoke Spanish and only Spanish. They didn't know much English so I wasn't left with much option but to speak their language! As a result, within a year of arriving I could generally get by in almost any situation. Contrary to what other people think, I don't find the language particularly difficult to learn. Maybe I'm at an advantage being a language teacher and already having learnt other languages, I find the different grammatical structures and vocabulary easy to process.
What do you like most about Basque? Do you have a favourite saying?
I particularly like some of the different accents within the Basque Country. In Iparralde (the French Basque Country) the accent is extremely smooth and sweet. It sounds a bit like they're whispering. Another thing, which is especially relieving after learning Spanish, is that there's no gender. This simplifies things a lot! Unfortunately, I've not learned any sayings yet, but I'll let you know when I do!
What advice would you give to others wanting to learn Basque, or a similar 'restricted' use language?
Go for it! With any language like this the native speakers really appreciate it that you're making an effort to speak their language. They really open up and take you into the hearts and homes.  It's the best way of removing barriers that can divide us and understanding and respecting each other.
Resources
With thanks to Matthew Doughty for his valuable contributions.
http://www.kondaira.net/eng/Euskara0001.html
https://en.wikipedia.org/wiki/Basque_language
http://www.bbc.co.uk/languages/european_languages/languages/basque.shtml