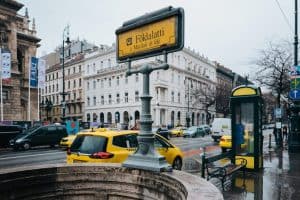 English is a linguistic melting pot: much of our vocabulary is derived from Latin, sometimes via French, but other influences include Celtic, Greek, Norman, Dutch, Spanish, Italian, Indian languages, German, Old Norse, Hebrew, Yiddish and Arabic. When borrowing lexical items from other languages, one of the questions writers face is whether to retain the foreign diacritics.
Some people argue that once a word is truly absorbed in a language, there is no need for the diacritics, e.g. cafe, facade, naive, but you will equally find sticklers who insist on café, façade and naïve. If you feel unsure about the correct official spelling of these examples, maybe you will be more confident that the anglicisation process is further advanced for hotel and role (rather than hôtel and rôle).
Culinary vocabulary in English has been particularly influenced by French, so food writing throws up plenty of these borrowings at various stages of integration into standard English. In general, technical vocabulary seems more resistant to loss of foreign diacritics than words used more broadly. As a translator, you will need to follow your client's style guide or design your own rules for items like puree/purée and compote/compôte. You might like the foreign feel the accents give in this context, on the other hand, no-one wants to appear pretentious. A random sample of cookery writers from my shelves (Ruby Tandoh, Nigella Lawson, Nigel Slater, Sabrina Ghayour) all use accents on crème fraîche. And the major supermarkets seem to agree. Tesco, Asda and Sainsbury's all use accents on this product. However, the accents tend to disappear in online product descriptions, presumably because your average English shopper will not be including them in their search input when adding this item to their basket.
In some contexts, accents are retained to make the pronunciation clear or to avoid confusion with another lexical item, e.g. exposé, resumé, rosé versus expose, resume, rose. Clarity of pronunciation may explain why you will not find many people using both accents on résumé.
Foreign diacritics also throw up some splendid 'hyperforeignisms', where native speakers mistakenly add accents to words that did not have them in the original language. The popular caffeinated beverage caffe latte is a great example of this. The original Italian is caffè latte, but it is not unusual to find English renditions that have been muddled by the French, e.g. café latte, and caffé latte. Perhaps even more egregiously, you may also find a smattering of random accents on latté, lattè. The traditional South American drink mate is often spelled with a final accent maté to distinguish it from the English word for a buddy or friend, mate. This potential pronunciation confusion does not exist in Spanish and the accented version has a different stress pattern and meaning (maté – "I killed", with the emphasis on the final syllable).
Another motivation for adding accents can be as a political statement about a language's status. For example, there has recently been a concerted push to include the original macrons on Maori loanwords and placenames in New Zealand, including on the name of the language itself, Māori.
What should translators do? Clearly you need to think about cases where confusion might arise, but more often accents are a stylistic preference, a way to add a certain éclat to your text!
Sources
https://theweek.com/articles/843837/future-english-language-full-accented-characters
https://en.wikipedia.org/wiki/Foreign_language_influences_in_English
https://en.wikipedia.org/wiki/Hyperforeignism
https://www.theguardian.com/world/2020/jan/27/wikipedia-maori-placenames-accents-macrons-te-reo-new-zealand