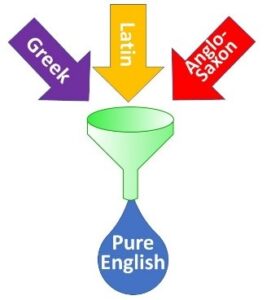 This blog previously delved into the question of foreign diacritics and whether or not to include them in English text. Mulling this issue again recently led me off down another rabbit hole to investigate linguistic purism in English. Some time ago, I came across the piece "Uncleftish Beholding" by American science fiction author Poul Anderson. The text is designed to illustrate what English might look like without the now familiar loanwords from French, Greek and Latin. Douglas Hofstadter jokingly coined the term "Ander-Saxon" in homage to Anderson's linguistic creation. You may need a bit of assistance to decipher the text itself, but it is a fun exercise, particular for anyone with a knowledge of the Germanic languages. Anderson creatively uses existing Germanic vocabulary and coins new terms in his description of atomic theory. So, there are firststuffs (chemical elements), waterstuff (hydrogen, "Wasserstoff" in German), sourstuff (from German "Sauerstoff" meaning oxygen) and the delightful sunstuff (for helium, derived from Greek hēlios meaning sun).
The text represents a partial conlang, or constructed language, in which the phonology, grammar and vocabulary is consciously devised, often with a particular purpose in mind. The most famous example is undoubtedly Esperanto. What caught my attention with the Poul Anderson text was its quest for linguistic purism. Only Anderson could reveal his motivation for writing the piece, but it seems hard to imagine that humorous effect was not a factor. As well as playful intent, the piece is an intellectual exercise and an opportunity to exhibit his linguistic prowess. The text is likely to be gibberish without some familiarity with philology not to mention a passing knowledge of the scientific concepts being described.
Other writers have made more serious arguments for linguistic purism in English. John Cheke, a 16th century English classical scholar, argues "I am of this opinion that our own tung shold be written cleane and pure, unmixt and unmangeled with borowing of other tunges". A couple of centuries later, the Rev. William Barnes was proposing the avoidance of Greek, Latin and other foreign influences to allow readers without a classical education to better understand English texts. If we ignore the potential appeal to those with an excessively nationalistic or even xenophobic mindset, some of Barnes' coinages are delightful. He comes up with sun-print for photograph and wortlore for botany. Other rather charming lexical suggestions include birdlore instead of ornithology, and bendsome for flexible.
There is a streak of nostalgia in the arguments proposed by English language purists that is echoed in some of the pronouncements on French by the Académie Française today. The 19th century poet Gerard Manley Hopkins writes wistfully, "It makes one weep to think what English might have been; for in spite of all that Shakespeare and Milton have done … no beauty in a language can make up for want of purity." More recently, elements of linguistic purism are reflected in George Orwell's statement in 1946 that "Bad writers […] are nearly always haunted by the notion that Latin or Greek words are grander than Saxon ones." And a similar philosophy, albeit with a more broad-minded emphasis, underpins the often admirable campaign for plain English.