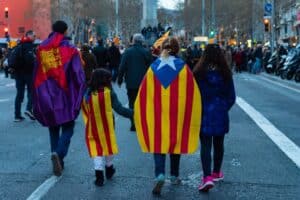 Catalonia has been very much in the news over recent months and the debate about its political relationship with the rest of Spain is still ongoing. Despite having visited the area several times, I realised I was woefully ignorant about the linguistic make-up of the region. So this week's blog post gives you a beginner's guide to the languages spoken in Catalonia, including of course Catalan.
According to a 2008 survey, 45.9% of the population usually speak Spanish for everyday conversations, while 35.6% usually employed Catalan. However, when it comes to interactions outside the family, the balance shifts in favour of Catalan. When asked how they addressed strangers, 48.6% of the population indicated that they exclusively or preferentially chose to use Catalan.
Like many areas, the region's linguistic history has been shaped by migration. In particular, large-scale migration from the rest of Spain during the 20th century has resulted in that language dominating over the native Catalan language. More recently an influx of people from outside Spain has had an impact too, something which is reflected in the statistic that in 2013 approximately 600,000 people in Catalonia were found to have a language other than Catalan or Spanish as their first language (roughly 10% of the overall population).
Until as recently as the 1980s Spanish was the only language used in schools and in all official communications. Now, Catalan is a compulsory subject in schools and enjoys equals rights with Spanish throughout Catalonia. It is also the language of the autonomous regional government and the other public institutions that fall under its jurisdiction. In fact the Generalitat (the Government of Catalonia) favours the use of Catalan in its communications to the general population, although citizens can request information translated into Spanish if they desire.
Amongst the general population there are high levels of comprehension when it comes to spoken Catalan, but much lower rates when it comes to writing in the language. A survey in 2013 by the government of Catalonia found that 99% of the population could understand Spanish with 96% also able to write in Spanish. By contrast, for Catalan the figures were 94% for comprehension with only 60% able to write in the language.
Whatever the political future for the region, in terms of the Catalan language, the recent education policy appears to be having a significant impact. Knowledge of the language is far higher in the younger generation than for older people. For instance, among Catalonians aged 75-79 approximately 60% reported an ability to speak Catalan, with only 25% being able to write in the language. By contrast, for the group aged 20-24 (who have received at least some of their education in the Catalan) the figures for both spoken and written are closer to 95%.
Sources
https://en.wikipedia.org/wiki/Languages_of_Catalonia
Language Use of the Population of Catalonia  Key results of the Survey on Language Use of the Population 2013 (Generalitat de Catalunya). Document available at: http://llengua.gencat.cat/web/.content/documents/publicacions/altres/arxius/EULP2013_angles.pdf