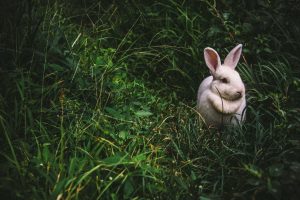 Instead of scrolling blankly through Twitter during my solo lunch hour, I am now surrounded by stuck-at-home family with the result that actual conversations take place. A new favourite activity is "Where's that word from?" and I have been appointed chief etymologist with research responsibilities, in charge of taking the whole family down etymological rabbit holes. Often etymological origins are lost in the mists of time or are disappointingly mundane, but this week we hit a rich seam so here are our latest linguistic discoveries for your enjoyment.
bunkum, noun, nonsense, rubbish, balderdash, insincere or foolish talk
It is rare to find a word with such a specific origin story. Bunkum takes us back to 1820 and a certain Felix Walker, who was the Congressman for Buncombe County in North Carolina. The U.S. House of Representatives was debating the issue of slavery in the state of Missouri when Walker insisted on making a lengthy speech with little or no bearing on the matter. Despite several members of the house pleading with him to stop, he persevered, saying he was "bound to make a speech for Buncombe". The word buncombe (now spelled bunkum) is first cited in the OED referring specifically to political oratory designed to please constituents. Its meaning later broadened to the senses found today.
on your tod, informal, on your own, all alone
Like many lovely British English phrases, we have the creativity of Cockney Rhyming slang to thank here. Originally "On one's Tod Sloane", it uses the classic device of taking a (formerly) famous celebrity and using their name for humorous effect. The highlight of this story is Tod Sloane himself, who began life in poverty as a street urchin, found fame and fortune as a jockey and lived the high life with plenty of women and fast cars, before falling spectacularly from grace and dying in solitude and ignominy.
muller verb, to beat or thrash, to decisively defeat or outplay
I suspect this is another predominantly British item of slang, used in phrases such as "He properly mullered that", to describe someone hitting a nail so hard they may have broken it. The etymology here is far from clear, with the most likely source being simply the verb to mull, relating to mill, meaning to powder or pulverise something. My husband recalls the word being used at Unilever's Flora margarine factory in the 1990s and he was convinced it had something to do with German footballer Gerd Müller. Wiktionary describes this possibility as "phonologically improbable". Personally, I can't see the problem from a phonological perspective – the surname seems to share sufficient pronunciation characteristics to make it a potential source. More problematic is that the word seems to have been in use before Müller was firing in goals in the late 1960s and early 1970s. I wonder if this pre-existing usage may have been reinforced by Müller's fame and scoring ability. At any rate, it makes for a more interesting story, worthy of bookending this excursion into random etymological rabbit holes.
Sources
https://www.grammarphobia.com/blog/2011/07/bunkum.html