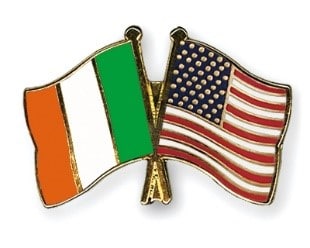 Avid readers of these blog posts will have spotted that I have a bit of a thing about running. Maybe even a slight obsession about running! Getting out there running on the streets and trails, reading about running, watching running, thinking about running. And then just occasionally running and language coincide and I get to sneak running into this blog. So imagine my excitement when American mid-distance runner Kyle Merber posted a picture of the translation guide he and his Irish bride, Patricia Barry, provided to help out the transatlantic guests at their wedding in October.
Even with my rose-tinted running glasses on, I confess runners themselves can be a bit dull. Their social media feeds are dominated by split speeds, training session reports and injury woes, sprinkled with the occasional race triumph. They like early nights, early mornings, sensible food and everything in moderation except mileage. Kyle Merber is a definite exception to this tedium – he is always entertaining and often irreverent. Who else would tweet a romantic picture with his new wife saying "honeymoon finishes just as we run out of things to talk about". The credit for the wedding translation cards apparently goes to his Tipperary bride, but it was no surprise that Merber has selected a linguistic genius as his wife.
You can enjoy the translation guide in full below, but here are just a few highlights. I took particular delight in the rendering of American English "I'm totally wiped out" in Irish as "I am just banjaxed!". And Irish once again wins the prize for being more entertaining with the US English "Are you for real?" converted to "Stop acting the maggot". I will definitely be adopting that phrase in future. US English fights back in the drinks department with the rather prosaic "Fancy a pint?" upgraded to "Down for a another brewski?". And the bride and groom also drop in a pronunciation tip suggesting "to blend in around here, it might be useful to drop the H after the T!".
The translation cards were a huge hit with the Irish press – featuring in The Irish Post and getting plenty of social media coverage. I'm sure many international weddings would benefit from a similar translation service but of course the true joy in these translations is that both "languages" are supposedly mutually intelligible. Never has the adage "divided by a common language" been more adeptly captured than in the final translation which takes the very specific Tipperary exhortation of "Gwan Tipp!!" and suggests the US equivalent of "Let's go Yankees!". Localisation in action.
Meanwhile, the bride and groom headed off to Switzerland on honeymoon where new linguistic struggles awaited, leaving Merber to comment "Either I don't speak French or that Swiss hypnotist sucked"!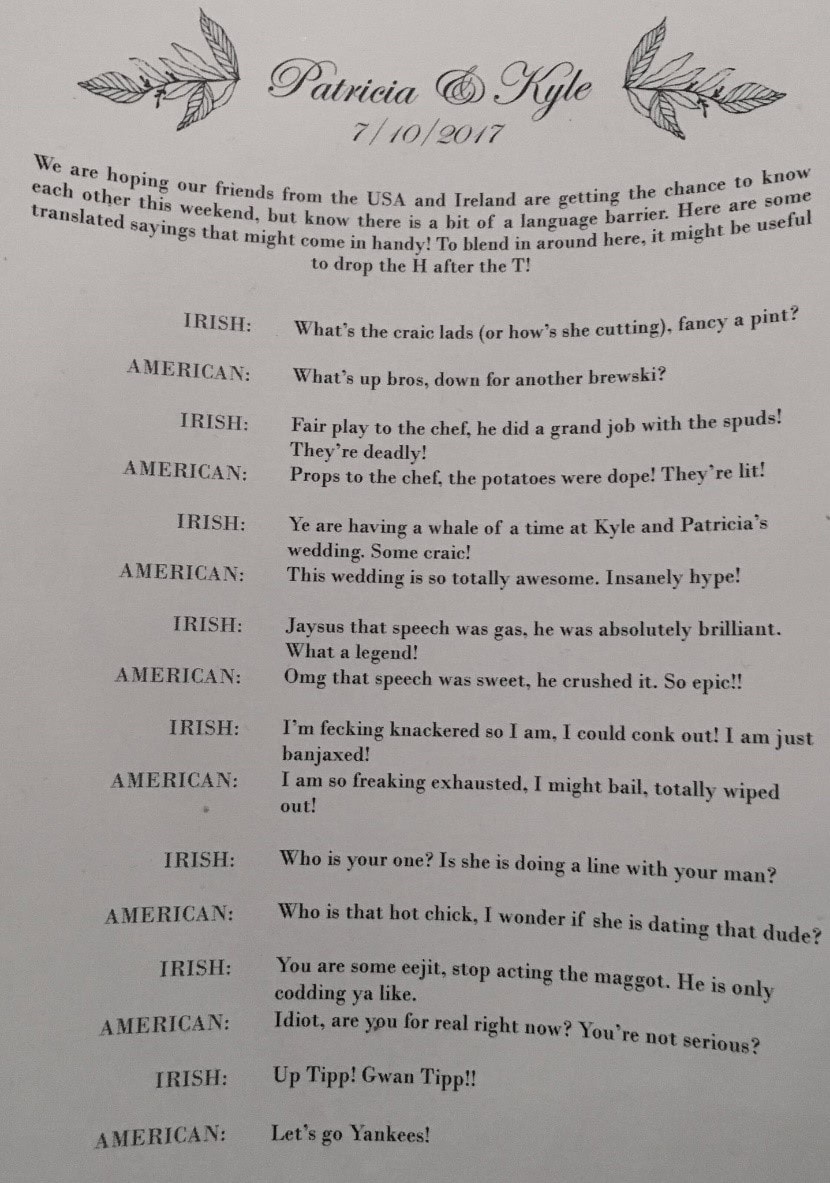 Sources
@TheRealMerb on Twitter
A Tipperary woman made an Irish translation card for her wedding in America – and it's hilarious