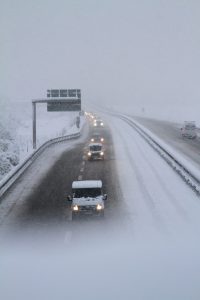 As winter sets in and we brace ourselves for months of grey skies and chilly temperatures, there is a linguistic silver lining to brighten the coming months. Each year, Scotland's 230 road gritters are sent out to spread the highways with salt in a bid to keep them passable despite the snow and ice. What might have been an unheralded enterprise to keep traffic moving has become something of a national treasure thanks to the inventive names given to the fleet of vehicles. At Traffic Scotland's inimitable Trunk Road Gritter Tracker website, you can even track gritter truck movements while revelling in their creative names.
The British are suckers for a good old pun, and never is this more apparent than in the great gritter naming system. Inevitably plenty of famous Scots are celebrated with gritters named Sir Andy Flurry, William Wall-ice, Chilly Connolly and Charles RennIce MackinSlush. But foreign celebrities also get a look in with Spready Mercury, Gritney Spears and Davie Plowie. Plenty of fictional characters are out there sprinkling rock salt on the tarmac too, including Penelope Gritstop, Buzz Ice Clear and the superlative Lord Coldemort and You're a Blizzard Harry. Star Wars virtually gets a whole fleet of its own with Darth Spreader, Han Snow-lo, Snowbegone Kenobi and Luke Snowwalker all patrolling the highways.
The inspiration for public involvement in vehicle naming may have its roots in a 2016 online poll run by the Natural Environment Research Council to name their £200 million polar scientific research ship. This competition resulted in a certain amount of back-pedalling after the option "Boaty McBoatFace" was an unexpected runaway winner. The poll become a global news story that either warned of the perils of asking the public anything or was a celebration of irrepressible silliness, depending on your perspective. In the end, the main ship was named after Sir David Attenborough, with one of the smaller submersibles on board getting the honour of being called Boaty McBoatFace.
No doubt the organisers of the competition to name the 2021 fleet of gritters for Scotland's South West Trunk Roads planned a filtering system to prevent similar embarrassment. The recent death of James Bond actor Sean Connery produced several gritter tributes, I hope he would have delighted in "You Only Grit Ice" and the surely unbeatable "On her Majesty's Slippery Surface". BEAR Scotland, which is responsible for the roads in the rest of Scotland, focused their own naming competition on schools, at least in part to provide some light relief during the Covid lockdown period. As the road crews get ready for the 2021-2022 season, the trucks have been taking time out to visit local primary schools, so the kids can see the results of their linguistic creativity.
If you fancy honing your own word play skills, you may need to look further afield than Scotland, where it seems the full fleet is now named and ready for action. The good news is the trend seems to have gone global with similar naming contests in Calgary, South Dakota and Colorado. In Minnesota you will even find a snowplough honouring the original naming competition under the name "Plowy McPlowFace".