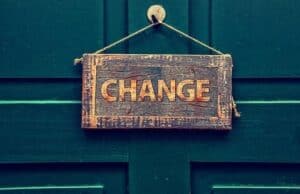 Historical language shifts are easiest to describe after the fact when you can track how a particular usage has evolved over time. Spotting language change in action can feel like trying to capture lightning in a bottle due to the unpredictability of linguistic habits. A shift in usage might be adopted by a particular sub-group, only to fizzle out, having never gained widespread acceptance in the broader community. I often find myself wondering what the ultimate outcome will be for the use of "good" as an adverb in addition to its conventional role as an adjective. Currently the adverbial form is limited to informal interactions in fairly specific contexts, e.g. "How did it go?" "Really good!". It is notable that in the full utterance "It went really …", the speaker is much more likely to use the grammatically correct well, rather than good. So the acceptability of the adverbial usage is still limited.
Garner's Modern English Usage has several fine examples of good being used as an adverb in spoken language, particularly from the world of sport: "We came out, threw the ball up the court good, passed good" and "Dixon ran so good last year, it was unbelievable". Billy Bragg also makes use of this linguistic quirk to evoke the world of football in his song "Boy done good" (from his 1997 album of the same name). Even if informal use of adverbial good is widespread, the question is whether this usage will become sufficiently embedded to make the leap into more formal written language.
Garner also has a Language Change Index, consisting of five stages, which are used to categorise different words and phrases in the dictionary section of the book. The very first stage involves innovation, where a new form might emerge "among a small minority of the language community, perhaps displacing a traditional usage." The final stage of language change is exquisitely described as follows: "The form is universally accepted (not counting pseudo-snoot eccentrics)." This is surely the stage that the verb decimate has reached in English, where only the most punctilious pedant will remind you that it strictly means reduce by one tenth rather than destroy in large numbers.
At any rate, Garner classifies adverbial good as being at Stage 2 on the Language Change Index. The relevant description for this stage is "The form spreads to a significant fraction of the language community but remains unacceptable in standard usage". I wonder if adverbial good might even be inching towards being a candidate for Stage 3, which says "The form becomes commonplace even among many well-educated people but is still avoided in careful usage." I've certainly become increasingly aware of very well-spoken individuals using good as an adverb in contexts such as "How are you?", "Pretty good" and even "He did good" (rather than well). This is particularly true for younger age groups. But even in these groups, when it comes to written language, adverbial good is undoubtedly much closer to meeting Garner's descriptive shorthand for Stage 2 of being "widely shunned".
Interestingly the use of good as an adverb is a not a new phenomenon, The New Fowler's Modern English points out that "[adverbial good] dropped out of standard use c1800 and now survives mainly in nonstandard use." Time will tell whether that entry will one day need updating.