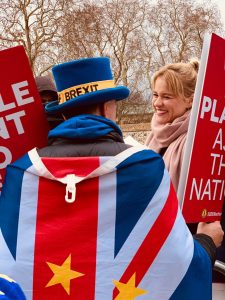 It is probably safe to say that not many people employed in the translation industry regard Brexit as an ingenious strategy destined to be the UK's ideal path to prosperity. At times it's hard to see much cause for hope or humour amid the political wrangling and uncertainty. Let me try to persuade you that the renowned British ability to laugh in the face of calamity is alive and well, even in these troubled times. The People's Vote protest on March 23rd in London drew my attention to our particular fondness for puns when it comes to designing political placards. This week's blog takes a quick tour of some of my personal wordplay highlights from the day.
There were several variations playing on the similarity of "Brexit" to the word for excrement. I lost count of the "Brex" + "poo emoji" banners, not to mention those making the most of the turd humour potential in soft and hard Brexit.
Meanwhile, dogs were not to be left out as you'll see from our four-legged friend at the top of this post. Not only is the "dog's Brexit" a wonderful pun, it also relies on a peculiarly British bit of slang dating back to the 1930s. Other placard designers took advantage of the similarity in pronunciation between "EU" and "you", with a special fondness for the popular song lyric. There was Whitney Houston's "I will always love EU", Nilsson's "Can't live, if living is without EU" and Sinéad O'Connor's "Nothing compares to EU". The group below really went to town with the concept, milking Rick Astley's "Never gonna give EU up" for all it is worth.
Plaudits must also go to the lady sporting an enormous fan on her head bearing the simple slogan: "Brexit, I'm not a fan". Rather more obscurely, a placard with assorted photos of Jacob Rees-Mogg, Michael Gove, Boris Johnson etc. plus Theresa May bore the title "Nuts 'n May". This required a bit of explanation for my teenage daughter, who was not familiar with Mike Leigh's classic 1970s film "Nuts in May".
It is possible that the current political climate has triggered a desperate need to find amusement anywhere, with the result that I have become slightly delirious. Whatever the reason, I found myself chuckling at the sign with Oxo cubes labelled "Beef stock", "Chicken stock" then a Union Jack labelled "Laughing stock". And if you can't raise a weak smile at "Fromage not Farage" maybe all hope is truly lost. But the undoubted wordplay winner in my view was the creative genius behind the "British Tits" depicted below. We may be up "Brexit creek" without a paddle, but at least we can pun with the best of them.
Sources
https://londonist.com/london/politics/brexit-placards-peoples-vote-march-2019
https://www.theguardian.com/politics/gallery/2019/mar/23/fromage-not-farage-best-placards-peoples-vote-march-brexit
https://www.instagram.com/p/BvXTYDtFVKA/?utm_source=ig_embed&utm_campaign=embed_locale_control
https://twitter.com/SarahLouHill/status/1109422663687118848/photo/1?ref_src=twsrc%5Etfw%7Ctwcamp%5Etweetembed&ref_url=https%3A%2F%2Fd-2871354834203183465.ampproject.net%2F1903141753530%2Fframe.html