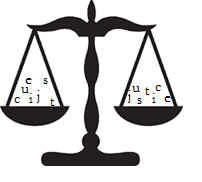 Can prejudice against a dialect potentially influence decisions made in the criminal justice system? That is the question at the heart of a fascinating paper by John Rickford and Sharese King published in Language: A Journal of the American Linguistic Society. The paper investigates whether a jury's attitude towards a witness's dialect could cause them to misunderstand, undervalue or even disregard their evidence in a trial. More specifically the authors look at the testimony of Rachel Jeantel, a crucial prosecution witness in the case brought against George Zimmerman for the murder of Trayvon Martin in Florida in February 2012. Martin's death was followed by rallies and protests across the USA and prompted a national debate about racial profiling and institutionalised racism. Zimmerman's subsequent acquittal lead to the foundation of the Black Lives Matter movement.
During Zimmerman's trial there was widespread criticism in the press and on social media of the then nineteen year old Jeantel's testimony. Jeantel speaks a Haitian-influenced variety of African American Vernacular English (AAVE) and, as Geoffrey Pullum points out in The Chronicle of Higher Education, she is also fluent in Haitian Creole (her mother's native language) and Spanish (her father's native language). In their award-winning paper (Linguist Society Best Paper Award 2016), Rickford and King suggest that dialect unfamiliarity and prejudice against speakers of AAVE led the jury to unfairly characterize her testimony as "unintelligible and ignorant-sounding". Jeantel was judged to be not credible as a witness and her evidence was ultimately disregarded in jury deliberations.
This case is by no means unique. Rickford and King highlight other court cases from the USA, Australia, Africa and the UK where English vernacular witness statements were mistranscribed or misunderstood and they point out that interpreters are not generally provided for 'dialects' of a language, only for foreign languages. Yet clearly Jeantal's speech was difficult for many to decipher, with one courtroom reporter stating that "Jeantel spoke an urban teenage lingo that was an alien tongue to most of the white, suburban, middle-aged jurors".
The full paper in Language gives a detailed analysis of the systematic nature of the morphosyntax, phonology and lexicon in Jeantal's AAVE. They demonstrate that her speech conformed to the rules applicable for her own dialect, yet the jurors perceived it to be incorrect and uneducated. Rickford and King point out that mishearings and misjudgements of AAVE and other vernacular speakers not only have potentially devastating consequences in the courtroom, but also in other domains such as police encounters, classrooms and job interviews. The authors argue that linguists can and should play a bigger role in explaining these vernacular varieties, advocating for reforms where necessary.
One solution proposed is "the use of interpreters for deep AAVE and other vernacular speakers, although recognizing that in some cases witnesses … may not want that option, perhaps considering it demeaning." The authors note that this is already an option for some Creole English speakers in both the United Kingdom and the United States
Sources
"Language and Linguistics on Trial:  Hearing Vernacular Speakers in the Courtroom and Beyond," by John R. Rickford and Sharese King of Stanford University, December 2016, Language.
Pre-print version available at: http://www.linguisticsociety.org/sites/default/files/Rickford_92_4.pdf
http://www.chronicle.com/blogs/linguafranca/2017/01/11/decrying-dialects-and-despising-speakers/
http://www.linguisticsociety.org/news/2016/12/23/best-paper-language-award-announced
http://www.linguisticsociety.org/news/2016/12/20/december-issue-language-includes-article-about-language-trial
https://en.wikipedia.org/wiki/Black_Lives_Matter