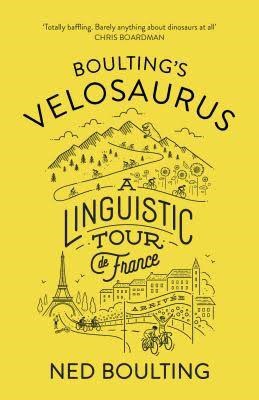 On the 1st of July the 104th edition of the Tour de France got underway and British cycling fans are already refreshing their knowledge of French from the comfort of their sofas. This year the riders will cover approximately 3500 km during the race, an average of 167 km per day with just two rest days thrown in to the three week event. This is very much a sport where English unashamedly adopts French vocabulary using terms such as peloton, domestique, échelon and soigneur in common cycling parlance.
To get in the mood for this year's feat of cycling endurance, I immersed myself in the latest book by ITV cycling's correspondent Ned Boulting. His previous books have related in entertaining manner his transformation from cycling ignoramus, famously referring to the maillot jeune (the yellow jersey) as "the yellow jumper". Nowadays he commentates not only on Le Tour, but also the Vuelta a España (Tour of Spain) and the wonderfully named Tour de Yorkshire.
In his latest book, Boulting's Velosaurus, he celebrates the language of French cycling in a not altogether serious manner. This is certainly not the book for you if you are hoping to find clarification on the meaning of French cycling terms such as échappée (breakaway), rouleur (a cycling all-rounder), pavé (cobbles, as in the legendary Paris-Roubaix one day classic) or chapeau (respectful salutation for a fine performance). What Boulting provides is far more entertaining, selecting the linguistic terms he defines primarily as an excuse to recount a cycling anecdote or deliver a humorous aside.
Some entries have at least a tenuous link to their genuine usage. Badinage, is indeed used to refer to witty or humorous banter, especially within the peloton, and often with a view to putting off your opponents. Then there are entries such as andouillette (literally a kind of tripe sausage) for which Boulting supplies his own definition of "a surprisingly grisly cycling event. Or the wonderfully coined corbillard (hearse) ascribed to the team car into which injured or ill riders are bundled when they abandon the race!
There are plenty of cycling in-jokes too where the reader is assumed to be familiar with the major personalities in the sport. Lancer (from Lance Armstrong) is paraphrased as "never to test positive for performance enhancing drugs", a mégaphone is simply defined as "Jens Voigt" (a hugely popular German rider renowned for his colourful personality both on and off the bike) and finally a joujou (a diminutive plaything) is referred to as "a laughably small bicycle, built for a very small rider. Like Richie Porte's".
Finally there are the other French cycling terms where Boulting's unique sense of humour and insider knowledge of cycling are given free rein. Froomage is defined as "a testing predicament which requires extreme measures" referring to the now infamous incident in the 2016 tour when Chris Froome's bike was rendered unusable in a collision, leaving him to run up Mont Ventoux in his cleats until a team car could provide him with a new set of wheels.
I'll finish with my personal favourite Boulting definition "panache – riding with doomed flamboyance, conscious of the need to renew one's contract".