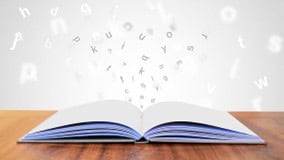 Novelists are well aware of the peril of giving two characters names that start with the same letter because readers have a tendency to get them confused. I sometimes struggle to keep track of who's who in a book even when the name of both characters is not remotely similar, so when presented with two characters called Bruce and Brian, or Hannah and Harriet, all hope of following the plot is lost. My brother is a script writer and confirms that the same phenomenon is familiar to those working in the audio-visual world. You would have thought with additional visual clues, viewers would be less likely to muddle up the characters. But before a script even makes it to the filming stage, it is read by countless people, and the last thing you want if you are pitching a project is to make life harder for the harassed TV or film executive tasked with deciding whether to give the go-ahead to your script.
I had always assumed there was a name for the phenomenon of confusing protagonists with the same initial letter, but if there is I've been unable to identify it. You will find countless sites advising fiction writers against the practice and parenting websites also wade into the debate with many cautioning against naming children with the same initials as each other or their parents. Having said that, there are plenty of examples of siblings with matching initials, perhaps most famously Kris Jenner (formerly Kardashian) named her kids Khloe, Kourtney, Kim, Kendall and Kylie.
Perhaps that's why I knew Keeping Up with the Kardashians was not going to be for me. At any rate, if there really is no widely accepted term for those of us with initial-letter confusion, it is surely time we came up with one to describe the challenges we face when negotiating the world. Maybe something like 'alpha-befuddlement' or the rather grander sounding 'nominative alliteration dysfunction'?
Whatever it is called, I seem to have passed on this inability to distinguish between words starting with the same letter to my middle daughter, although in her case it is most prevalent when it comes to place names. She freely admits that 'Canada Water' and 'Canary Wharf' are one and the same to her. More spectacularly, many years ago she confused 'Budapest' with 'Bangladesh', to the extent that the whole family now refer to 'Budapest-Bangladesh syndrome' whenever anyone suffers from initial-letter confusion. While muddling Budapest with Bangladesh takes a certain kind of talent, the capital of Hungary is understandably easily confused with the capital of Romania 'Bucharest'. This caused a group of French Euro 2020 fans the ultimate woe, when they turned up to cheer on their team in Bucharest, only to find that the match was taking place 500 miles away in Hungary.
My alphabet-challenged daughter recently visited the Universities and Colleges trade fair, where she spent over 20 minutes talking to a representative from Essex, under the impression that she was getting information about the university of Exeter. Suffice to say, we will be proofreading her college admissions form very carefully!