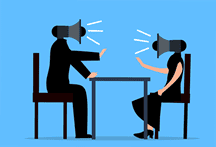 We hear a lot about free speech, not so much about "loud speech". But this was the topic that dominated a recent legal ruling in the UK. Dr Annette Plaut had worked as a physicist at Essex University for 30 years when she was dismissed, with the university citing the way she had dealt with two PhD students as grounds for terminating her employment. Plaut argued that the university did not approve of her style, particularly her "loudness". She cited discrimination on the grounds of race and sex, stating that her eastern European Jewish heritage was associated with an inherent loudness and argumentative conversational style. She further claimed that a man with a similarly loud style would not have been treated the same way and that this issue was exacerbated by her working in a very male-dominated environment.
It is clear from the Employment Tribunal ruling that Dr Plaut's interpersonal style was not to everyone's taste. As the Tribunal report diplomatically puts it: "she is a Marmite person". For her part, Dr Plaut seems to acknowledge this and had previously discussed a suitable form of words with the Human Resources team to warn students about her demonstrative and argumentative style. Over the course of these discussions, Dr Plaut was described as having "an unnaturally loud voice", which is a verdict she strongly objected to, responding that her voice was "naturally loud". An apology was duly issued to her by HR. The university also alleged that she was "perceived to have shouted" at students, something Dr Plaut vigorously denied. She seems to be backed up in this regard by one of her long-standing colleagues who declared that Dr Plaut had "nothing on the people he had worked with in Spain".
Although the Employment Tribunal dismissed Dr Plaut's claims for race and sex discrimination, it upheld the claim for unfair dismissal. For one thing, the Tribunal found procedural failings that were "of such a fundamental nature" the dismissal could not be deemed fair. But there was a more substantive conclusion too, in that the Tribunal "could not see any way that a fair procedure could have led to a dismissal". The Tribunal report states that "Senior management had decided that Dr Plaut and her loud speech would not be tolerated further" and it criticises the university's approach, saying if Dr Plaut was to be dismissed for people's "perceptions that she was shouting at them", she should have been given the opportunity to modify her behaviour.
How successful these modifications to her volume and style of speech might have been are debatable, as Dr Plaut herself concedes. She describes her conversational style as "naturally argumentative", particularly when she is excited about something and, because she was passionate about physics, her job led to frequent excitement! Enthusiastic loud people will likely be delighted that her claim for unfair dismissal was successful.