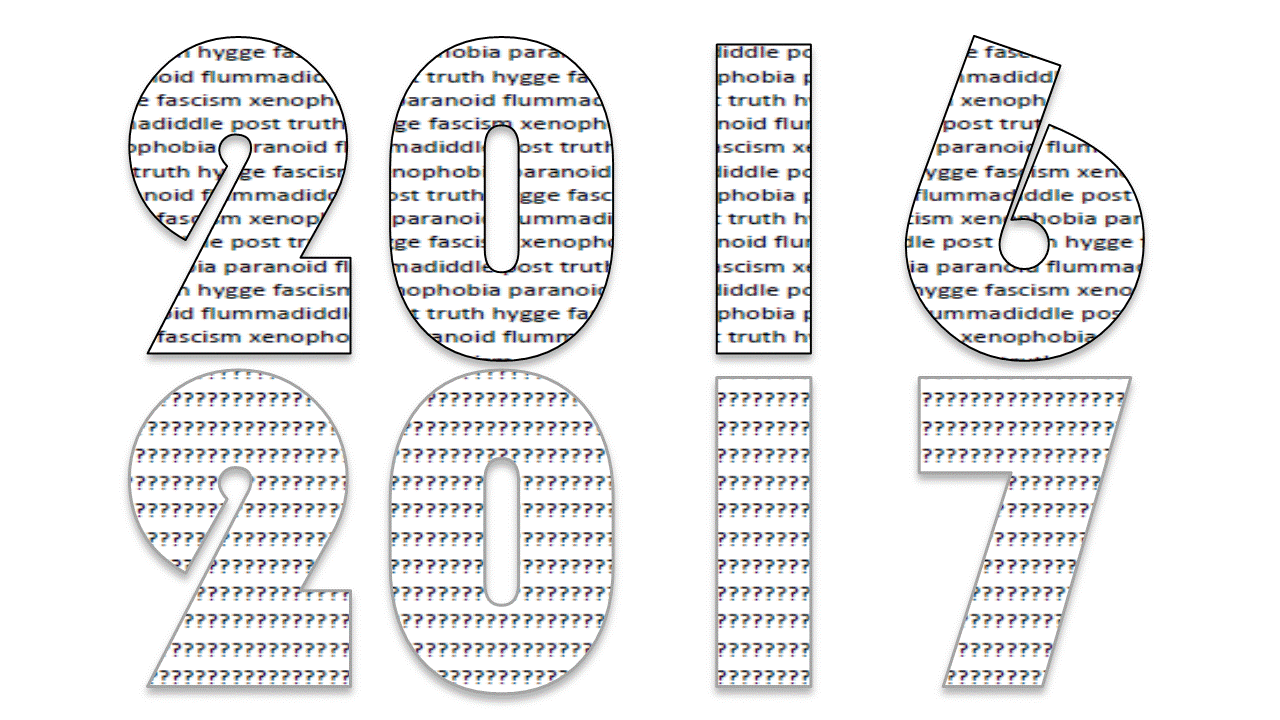 Looking back – a year in words
The New Year may be an arbitrary ticking over of the calendar but it is, nonetheless, a prompt to look back and reflect. 2016 may best be remembered as the year when facts and predictions became old hat. Who, 12 months ago, would honestly have tipped the treble of Brexit Britain, US President Trump and Leicester winning the Premier league*?!
The new tone in global politics was reflected in the "word of the year" selected by the editorial team at Oxford Dictionaries, who make their choice with the intention of reflecting something of the character of the passing year. 2016 saw dictionary staff on both sides of the Atlantic choose "post truth" as their word, defining this as "relating to or denoting circumstances in which objective facts are less influential in shaping public opinion than appeals to emotion and personal belief". According to the dictionary editors, use of the term "post truth" has risen by around 2000% when compared with the previous year.
Meanwhile, at Merriam Webster the trending word for 2016 based on their website searches looked likely at one point to be "fascism". This prompted the dictionary publisher to issue a heartfelt plea via Twitter for users to search for rather cheerier terms, tweeting in late November: "'Fascism' is still our #1 lookup … there's still time to look something else up." While the Twitterati responded with frantic searches for "puppies" and "squirrels", Merriam Webster themselves suggested a mass search for the word "flummadiddle" which apparently means "nonsense" or "trash". No comment was made on what might have prompted that particular proposal.
Things didn't get much better elsewhere, dictionary.com had "xenophobia" as their choice for 2016, while Cambridge Dictionary opted for "paranoid". I wonder if the latter was a reflection of the mindset of your average celebrity as they checked over their shoulder for the grim reaper, who was having a truly vintage year. At the risk of being accused of glaring omissions and in absolutely no particular order, we bid farewell to David Bowie, Lemmy Kilmister, Prince, Leonard Cohen, Alan Rickman, Gene Wilder, Victoria Wood, Ronnie Corbett, Caroline Aherne, Harper Lee, George Martin, Muhammad Ali, Terry Wogan, Andrew Sachs and no doubt many more.
But before we all totally despair, the Oxford Dictionaries team throws us a linguistic life raft with its inclusion of "hygge" on their list of words of the year: "A quality of cosiness and comfortable conviviality that engenders a feeling of contentment or wellbeing (regarded as a defining characteristic of Danish culture)" . The Visit Denmark website conjures up an even more life-affirming definition, mentioning the "warm glow of candlelight" and "sitting around the table for hours on end discussing the big and small things in life".
Phew. We might need some more of that in 2017.
Looking forward
After 2016 made fools of the pundits, it would be reckless to make predictions for 2017 – whether linguistic or otherwise. One annual certainty is the obsession with New Year fresh starts and these are reflected in some interesting neologisms which future dictionaries might need to take note of. With the traditional emphasis on giving things up for New Year, you can take your pick from the much touted January "dryathlon" (no alcohol) or maybe "Veganuary" (going vegan for January). Or perhaps you might like to coin your own term for one of the myriad other abstention-style resolutions. Personally I feel there's a gap in the market for a word which describes "refraining from single-handedly propping up the global chocolate market".
HAPPY NEW YEAR
Here's to a linguistically fascinating 2017!
Sources
https://www.theguardian.com/books/2016/nov/15/post-truth-named-word-of-the-year-by-oxford-dictionaries
https://www.theguardian.com/books/2016/dec/01/stop-fascism-becoming-word-of-the-year-urges-us-dictionary
http://www.visitdenmark.co.uk/en-gb/denmark/culture/art-danish-hygge
http://www.cancerresearchuk.org/support-us/find-an-event/charity-challenges/dryathlon
https://en.wikipedia.org/wiki/New_Year
* Footnote: US readers feel free to substitute the Cubs winning the World Series here.