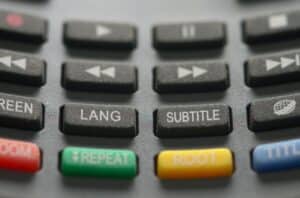 Are you one of those people who routinely watches TV with the subtitle on because otherwise you can't understand what the characters are talking about? You are not alone. Although there may be a tendency to wax lyrical about a golden age of crisp enunciation and crystal clear sound, there does seem to be some truth to the complaint that TV and film dialogue is getting increasingly hard to follow. Industry insiders acknowledge there is a problem, but few want to talk about it. Ben Pearson, writing at SlashFilm, describes reaching out to sound professionals, several of whom refused to go on the record for fear of repercussions, with one saying it would be "professional suicide" to do so.
So, if the intelligibility of film and TV dialogue is getting worse, the question is why? The answer is complex, but at least some of the problem appears to be a deliberate choice on the part of film makers and actors in pursuit of authenticity. In fact there is an entire film genre called mumblecore, which prides itself on naturalistic and sometimes improvised dialogue. It is true, of course, that in real life people do not speak as if they were fresh from their latest elocution lesson. Thoughts tumble out and are articulated while still half framed, with all sorts of repetitions, indistinct muttering, stuttering and stumbling. But in real life listeners get a chance to say: "excuse me" and "what was that again?". In a film, you risk getting lost.
The HBO series The Wire became somewhat renowned for its unintelligible dialogue, but writer George Pelecanos had no sympathy with viewers who resorted to watching with subtitle to follow what was going on. In an interview with The Independent, he said, "We wrote it so audiences would have to work at it! We were not going to compromise in making it immediately accessible for everyone". In fact, he accused subtitle viewers of turning his gritty crime drama into a comedy rather like the scene in the 1980s spoof Airplane, where "two black guys speak, and subtitles appear on the screen."
In addition to naturalistic mumbling, there is also a suggestion that technological developments have tempted actors and directors to defer responsibility for the clarity of dialogue to the post-production team. Ben Pearson's in-depth investigation into the deteriorating intelligibility of movie dialogue covers this issue in detail. Sound editor Karen Baker Landers describes the meticulous clean-up operation that goes on once filming is over "You go in and you volume-graph up a vowel, or one letter. You go in and you surgically […] slow it down."
This kind of post-editing can take hours, which is why sound technicians often lament the lack of care given to dialogue earlier in the filming process. Oscar-winning sound editor Donald Sylvester complains that when the sound guy on set suggests a retake is required because the dialogue wasn't sufficiently clear, the response is all too often a glib "We'll fix it in post". Sound editing technology has been revolutionised over the last few decades, but the manual labour involved in tweaking bad audio is considerable. Films are big business, so it seems surprising that industry moguls don't have their beady eyes on the bottom line in this regard.