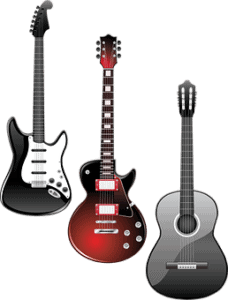 The world changes and language races to keep up. Sometimes a word that had a very clear meaning becomes more ambiguous as a result of new inventions or discoveries. Enter the retronym, a type of neologism in which the new name helps distinguish between an existing form and a more recent one. The classic example is the acoustic guitar, which was coined to describe a musical instrument that had been around for a considerable time, but which required an updated name to differentiate it from the more recent interloper, the electric guitar.
Once you start looking out for these terms, they are everywhere. Merriam Webster cites examples such as whole milk (previously just milk before the introduction of various low fat alternatives), regular coffee (which was an unnecessary clarification before someone figured out how to remove the caffeine to create a decaffeinated option), and organic food (previously all food was organic). The dictionary also suggests that retronyms consist of a noun and a modifier that clarifies the original meaning of the noun. This is true in the previous examples and in more recent retronyms such as brick phone (as opposed to a smartphone), and cis woman and cis man (coined to convert the previously sex-based terms into categories that are defined by gender-identity and to distinguish between trans and non-trans identities).
Perhaps the best retronyms acquire a life of their own without the accompanying noun, which is what has happened for the phrase brick and mortar as applied to businesses that have a physical presence in addition to an online or mail-order capacity. The origins of the phrase are slightly difficult to pin down, as discussed entertainingly at English Language & Usage Q&A at the Stack Exchange site. Several instances contrasting physical bank branches versus electronic services can be traced to the 1970s, with the phrase morphing into a term to distinguish mail-order retail from shops that you could visit in person during the 1980s. The definition we are most familiar with today, where brick and mortar acts as an antonym for online retail outlets, can be traced back to the 1990s.
As for the origin of the term retronym itself, that is said to go back to 1980 and Frank Mankiewicz (who was president of America's National Public Radio at the time), who was apparently intrigued by way plain old books were being referred to as hardcover books to distinguish them from the softback variety. But the popularity of the term retronym was no doubt boosted about a decade later by William Safire's column "On Language" in the New York Times. This short article consists mostly of Safire musing about the need for a retronym to distinguish the kind of mail you get posted through your front door from the variety that comes into your electronic inbox with this new-fangled thing called email. Safire also rather beautifully captures the inherent nostalgia in a retronym, describing these neologisms as "two-word names … for … things that have been overtaken by events".