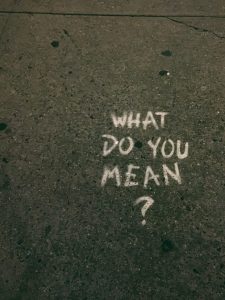 Here we delve into the charming world of the contranym, a word that has two distinct meanings that are contradictory or opposite. These words are also referred to as auto-antonyms or Janus words (after the god with two faces). Classic examples in English include cleave, which can mean to adhere together or split apart, and fast, which can refer to something being completely stuck or moving rapidly. Once you start noticing them, contranyms are everywhere! Left can refer to someone who has remained or someone who has departed, dust might involve removing the aforementioned particles or the act of sprinkling them over a surface, trim can denote the addition of a decorative detail or the removal of some unwanted section of an object. This blog's own round-up of new words prompted by the coronavirus included the phrase "mask shaming", which can be used either to shame someone for failing to use a mask, or to shame someone for wearing one (with the implication that it is unnecessary).
The term oversight is one of the most unfortunate contranyms, denoting either a failure to notice something, or the action of overseeing or supervising something. John F. Kennedy's speechwriter Ted Sorensen once wryly criticised the failings of the Senate Select Committee on Intelligence, stating "the word 'oversight' has two meanings, and they chose the wrong one."
This lexical confusion of contranyms can arise in various ways. Some have genuinely different etymological origins, for instance cleave meaning to "separate" is from Old English clēofan, while cleave meaning to "adhere" is from Old English clifian. These are two distinct words that used to be pronounced differently and have evolved over time to have identical spelling and pronunciation. Similarly Old English gives us the verb lettan, meaning to hinder or impede, and lǣtan, meaning to allow or leave. The former sense has almost disappeared from modern English but can be found in the tennis term let (a serve that is impeded by the net) and in the British passport instruction to "allow the bearer to pass freely without let or hindrance."
Polysemy is another route to contranym status. This is where a word takes on multiple meanings within a particular related semantic field. For instance, sanction can now either denote official permission for an action or a penalty for disobeying a rule. The development of a noun into a verb also frequently indicates either the addition or removal of the relevant item, as we saw with dust, but also in seed, stone, and skin.
Slang is another way lexical items can be changed to mean different things. When we are aware of this in action it is often the source of amusement. So, the older generation chortle at the use of sick to mean good, wicked to mean excellent, but these processes have always been in play as language evolves.