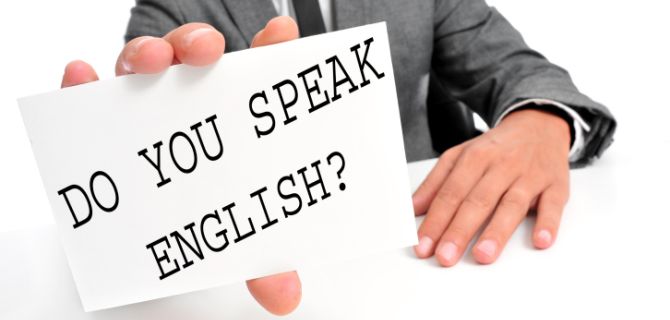 Brits abroad – two words that are enough to make any respectable English person cringe. However, aside from the lager lout behaviour and general debauchery that springs to mind with this phrase, are we really as bad as the stereotype suggests? In particular, are we a country of language novices?
Ask yourself a question: How often do you make a genuine effort to speak to the natives in their mother tongue when you're travelling abroad?
According to a report carried out by the British Council, 78 per cent of us admit to not being able to speak a foreign language to a high standard, which sounds like a conservative estimate at best.
But why do so many of us make such little effort to move away from English when we visit another country?
Doing the work for us
One argument is that it's simply too easy not to get involved. Even when travelling to the other side of the world, you're likely to find someone who can speak to you in at least broken English. There's almost a presumption that despite visiting another nation with its own history, culture and language, you'll be able to get by without lifting up a phrase book.
In a way, the English language is a victim of its own success. Because of the influence English – and American – culture has had on the rest of the world, it is the second most-commonly spoken globally. As a result, it's likely that most of the planet will be exposed to our language on a much more regular basis than we will to theirs.
Of course, this isn't always the case. In Russia, just 15 per cent of the population speak a foreign language, according to Levada Center, the country's independent sociological research organisation. Here, your options are either learn the language (or at least the essentials) or hire a guide.
Nation of language novices: lost in translation
Another possible stumbling block is the fear of embarrassment of getting it wrong. The fear of not being understood – or looking like a fool to the person you are trying to communicate with – is understandable.
After all, it's easy to see how frustrating it can be when someone doesn't understand a word you are saying – usually followed by over-gesticulation, flapping your arms around and finally shouting slowly and loudly in English as a last resort.
Such encounters can't be fun for either party involved and if anything, this highlights the important job that translators and interpreters do for people and businesses who don't possess the language skills to speak effectively with their peers.
In a way, this links back to the recent International Translation Day theme of translation rights, which are based around the idea that nobody should be left without the ability to communicate with the people around them.
So, are we a nation of language novices? Unashamedly so, but that's not to say it couldn't change in the future. According to the government, the number of children learning a language at GCSE level in 2013 was nearly a third higher than it was in 2011. It's taking time, but we are getting better.