Over the Christmas season this blog debated politically correct seasonal greetings, reflecting on a phenomenon that has been referred to a as a "manufactroversy" or manufactured controversy (or more pithily perhaps a "nontroversy"). Both these lexical items are fine examples of portmanteaus, "a linguistic blend of words, in which parts of multiple words or their phonemes are combined into a new word". This includes words we've almost forgotten are blends, such as smog, which combines smoke and fog, or motel, from motor and hotel.
If you love language and words, the realm of the portmanteau is a never-ending source of entertainment. This is linguistic creativity at its very best. It has sometimes been argued that the term portmanteau is itself a portmanteau. It's certainly a blend of two words: porter (to carry) and manteau (a cloak). Supposedly first used by Lewis Carroll in 1871, based on the concept of two words packed together like a portmanteau ("a travelling case having two halves joined by a hinge"). Another term used for this linguistic blending is the more obvious composite creation Frankenword (from Frankenstein and word).
Humorous effect seems to be a common motivator for many portmanteau creations. In the book "Thriving on Stupidity in the 21st century" Dilbert author, Scott Adams, suggests the magnificent term confusopoly: "a group of companies with similar products who intentionally confuse customers instead of competing on price". Or we have the concept of beerboarding, attempting to extract information from a person by getting them drunk. Or the useful term unlightening, the process of learning something that actually makes you dumber.
Bilingual speakers or language learners who fail to compartmentalise their different languages have spawned the inevitable Spanglish, Franglais etc. which generally suggests an entertaining mangling of languages rather than an official creole.
In sport and fitness, marketing gurus have pounced on the portmanteau to create jazzercise, dancercise, boxercise etc. Those with a more ethical bent might prefer plogging (a combination of jogging and picking up litter, from Swedish plocka upp "pick up"), a nice example of linguistic blending across languages. The Paralympics gives us an example of a blended term where the relevant source words have been reinterpreted over time. Originally said to be based on paraplegic and Olympics, nowadays the para is generally said to refer to parallel, with the emphasis on having an equal status.
Unsurprisingly perhaps, the technology sector just loves a portmanteau. We have blogging (web/log), vlogging (video/blogging), digerati (digital/literati) not to mention adware, spyware, freeware, malware, shareware, vaporware and many more. Once again humour is at play, with brogrammer used to denote a stereotypical masculine programmer, which you might either find amusing or depressing, depending on your perspective on gender roles in the IT sector.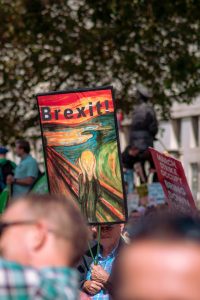 Finally, British politics continues to be dominated by the mother of all portmanteaus: Brexit. This seems to have triggered a stream of patently ghastly blends, such as flextension, Bremainers, remoaners, Bregret. Maybe portmanteaus are not so fun after all.
Sources
https://en.wikipedia.org/wiki/List_of_portmanteaus
https://www.urbandictionary.com/define.php?term=unlightening
https://www.cambridge.org/core/journals/english-today/article/from-brexit-to-bregret/CF56C28ECB973EF358C9A2F84C71F11C/core-reader