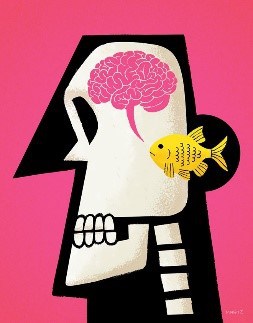 "The babel fish is a small, leech-like, yellow fish, and by putting this into one's ear one can instantly understand anything said in any language"
Douglas Adams, Hitchhikers Guide to the Galaxy
Techno-geeks and travellers are eagerly anticipating Google's latest product launch this autumn – the Pixel Buds are "smart earbuds" which claim to offer real-time translation between 40 languages. Find yourself in a foreign land and communicate instantly with those around you. What a dream. Linguists can be forgiven for frowning a little sceptically at this point. These kinds of claims for the power of AI to break down language barriers are not new. But before we question the credibility let's have a quick look at what's on offer.
The Google Pixel Buds will go on sale from late November at a price of £159. Not a snip for a pair of earphones but, if they truly offer the ability to converse with people in 40 languages, this strikes me as something of a bargain. The earphones are wireless (though joined to each other by a connecting cord) and offer a range of functionality but it is the translation service which is really hitting the headlines.
To call up a translation, you simply hold down on the right earbud and say "Help me speak Italian" (or whichever of the 40 languages you require). Then as you speak the translation will be played out through the Pixel phone's speaker. Magic. Or at least it appears to be pretty seamless in the demo Google gave at the launch event for the Pixel 2 mobile phone in October. Rick Osterloh, Google's senior vice president of hardware confessed that smartphones have effectively reached parity in terms of the functionality they offer. So now the company is looking to a combination of hardware, software and AI to differentiate itself from its competitors. And that is where the Pixel Buds come in.
How well does it really work? At this stage it is very hard to tell as we only have the glossy and controlled Google demo to go by. It's worth noting that Google translate already offers much of this functionality: live-translating conversations, admittedly with varying degrees of accuracy and some awkward pauses. Will the Pixel Bud translations be more accurate? Or faster? We will have to wait for the in-depth, real world product reviews to answer those questions. If not, the Pixel Buds will simply be a more convenient (and somewhat pricey) way of accessing functionality which is already offered by the Google Assistant.
Until reality strikes, however, the technology zealots can wistfully imagine that maybe at last we are close to producing something akin to Douglas Adam's legendary "babel fish" which featured so prominently in the Hitchhiker's Guide to the Galaxy. Let's hope that the consequences are not as he predicted:
"Meanwhile, the poor Babel fish, by effectively removing all barriers to communication between different races and cultures, has caused more and bloodier wars than anything else in the history of creation."
Sources
https://store.google.com/product/google_pixel_buds
https://www.engadget.com/2017/10/04/google-pixel-buds-translation-change-the-world/
https://www.wired.com/2013/03/bring-on-the-babel-fish/
Douglas Adams, The Hitchhikers' Guide to the Galaxy