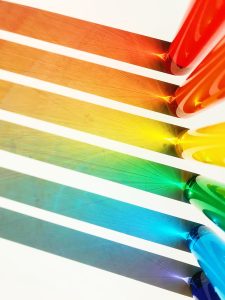 A while ago, esteemed linguistic tweeter @HaggardHawks recounted: "Not all languages have words for all the basic colours. But a study in 1969 found that some constants in translating the colour spectrum: all languages have words for BLACK and WHITE—and if a language has a third colour in its vocabulary, then it is always RED".
The study referenced in the Haggard Hawks tweet is from a book by Brent Berlin and Paul Kay called "Basic Color Terms: Their Universality and Evolution". In addition to the priority awarded to black, white and red, they claimed that where a language had a fourth colour descriptor, this would either be green or yellow. A fifth term allows the language to distinguish both green and yellow, while a sixth term introduces blue, and languages with additional colour terms add brown, then purple, pink, orange or grey.
This universalist approach suggests that human biology has a clear impact on the development of colour terms across all languages. A position that is in stark contrast to relativist theories, such as the Sapir-Whorf hypothesis, which suggests that the language a person speaks will affect the way they think and indeed the way they see the world.
The rather neat Berlin-Kay paradigm was relaxed somewhat in subsequent work by the original authors and has attracted criticism from linguists who prefer a more relativist interpretation. Work by Barbara Saunders suggests flaws in the methodology used by Berlin and Kay and questions their Western ethnocentric bias. An article by Paul Kay and Luisa Maffi later suggested a simplification of the original classification to three categories: 1. black and white, 2. warm and cool, distinguishing warm primaries (red and yellow) from cool primaries (green and blue), 3. red (distinguishing red).
Being a fan of sitting on the fence and seeing both sides of the argument, I like Marc H. Bornstein's proposal in "Hue categorization and color naming" that "in color, relativism appears to overlay a universalist foundation."
As a translator, it's also interesting to note how languages can influence each other in this regard. The Welsh word glas is usually translated as "blue" but could potentially also be used to describe shades of grey and even green. In modern usage, however, there appears to be a shift towards using glas more exclusively for blue and gwyrdd to denote green, apparently under the influence of the English colour terms.
When translating colours, you certainly need to be aware of different interpretations. German has "blaue Trauben" for what English speakers would probably call "black grapes" (the "blue" descriptor is much less common). And "Grünkohl" (literally green cabbage) is actually more likely to translate as "kale", while Weißkohl (white cabbage) would usually be described in English as "green cabbage" (although we do sometimes use the term white cabbage for paler varieties.). Even more bafflingly, "roter Thunfisch" (red tuna or Thunnus thynnus) is generally referred to in English as "bluefin tuna".
Sources
https://en.wikipedia.org/wiki/Basic_Color_Terms:_Their_Universality_and_Evolution
Barbara Saunders "Disinterring Basic Color Terms: a study in the mystique of cognitivism" https://journals.sagepub.com/doi/10.1177/095269519500800402
Marc H. Bornstein "Hue categorization and color naming" published in "Progress in Colour Studies: Psychological aspects" (ed. N.J.Pitchford, C.P. Biggam).
https://en.wikipedia.org/wiki/Blue%E2%80%93green_distinction_in_language