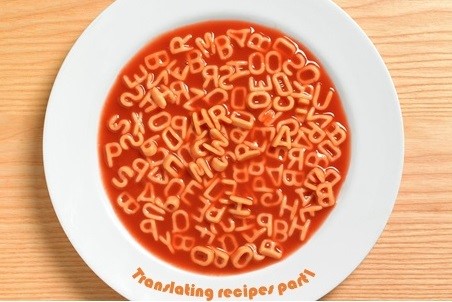 Recently I have done several projects which involved translating recipes. On the face of it this seems like a simple task: take the list of ingredients and convert into the target language; then simply do the same for the recipe method. Recipes tend to be very well structured, written in a series of simple to follow logical steps and specifically designed to avoid any possible linguistic misinterpretation, which might result in a culinary mishap.
I even naively thought that the repetitive nature of recipes might make this a dull process. In fact, the task was neither as simple as I'd imagined nor was it at all monotonous. Food is so culturally specific, the process of translating recipes was full of wonderful culinary and linguistic discoveries! In my next three blog posts I'll be looking at the specific challenges of recipe translation and some of the foodie highlights I enjoyed along the way.
Translating Recipes: German Ingredients
It comes as little surprise that availability of the basic raw materials is challenge number one. While "quark" may be ubiquitous in German supermarkets, it's much harder to track down in the UK and just try locating "halloumi" in a French supermarket. Then there's the question of how finickity to get over little details.
Purists may debate whether "Strudelteig" (strudel pastry) is different to "filo" pastry (the former is slightly thicker, apparently), but for many standard recipe books either can be substituted depending on availability. Ultimately the food editor will have to advise and make a decision.
Then there are the items which seem straightforward but which open up all sorts of questions. German recipes might specify "Sahne" –  easy, "cream" in English. But which kind of cream do they mean? English recipes would let you know whether single, double or whipping cream is required. And the German cream varieties found in most supermarkets don't map straightforwardly onto UK categories in terms of their fat content.
Similarly, several of the German recipes I worked on were content to refer to "Zucker" ("sugar") with no hint as to whether this might be caster, granulated, icing or any of the myriad brown, muscovado, demerara varieties on offer.
Flour is another minefield where country-specific knowledge is invaluable. The Italian "farro" is often translated simply as "spelt", but this conceals all sorts of other possibilities. For a start, there is "farro piccolo", "medio" or "grande". The latter is indeed spelt, while the first two would usually be translated as "Einkorn" and "Emmer". Several European countries use flour numbering systems for clarity, although with different countries using different numbering systems and with the UK preferring textual flour descriptors the translator is often left having to undertake careful research before deciding on their translation.
And once you've decided on a precise definition, you hit the question of availability again – the Italians and Germans are passionate about their flour and a wide choice would be available even in smaller shops. Here in the UK you are dependent on a really large supermarket, specialist flour producer or health food store for equivalent options.
I have found reference to at least eight types of German rye flour, and one cookbook I tackled used three types: 1150 (medium rye), 997 (sifted light rye) and 815 (an almost white rye which is even more highly refined than 997). Here the translator's task is to provide sufficient information to enable the food editor to determine the best local choice in each case, balancing availability of ingredients against a desire for authenticity.
Reference
https://breadcakesandale.wordpress.com/2012/12/14/just-what-is-farro-wheat-names-in-english-and-italian/