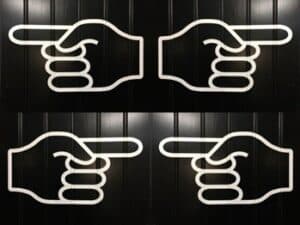 Until very recently, my knowledge of proximal and distal demonstratives could have fitted not so much on a postage stamp as a pin head. That was until I set about researching a translation habit of mine that I had spotted in my German to English work. Over many years, I have noticed that where German might be content to use a simple definite article "der, die, das" to refer to something that was just being discussed in a passage of text, my inclination as a native English speaker is often to substitute "this" instead of the more literal translation choice "the". For example, in a product description about a shirt, where several sentences have been dedicated to describing the product's characteristics, the German text may continue "Das Hemd …", whereas I feel English is more likely to reinforce the fact that we are still talking about the same shirt by referring to it as "This shirt …".
My preference for "this" over "the" in these contexts is typical of the kind of stylistic subtlety that translators often use to make their translations read more smoothly. The choice is largely subjective in the sense that the alternative is not incorrect; it just doesn't feel quite right to the pernickety reader. At any rate, I had never given any great consideration as to why there might be this difference in style between German and English or even how to describe it. In fact one of the wonderful things about language is the way humans effortlessly use it in all sorts of sophisticated ways without understanding the rules that explain their usage.
Curiosity finally got the better of me. Even though I don't have a firm answer as to whether German and English genuinely differ in this regard or why that might be, I am now at least able to describe the syntactic mechanism being deployed.
The simple definite article "the" does not need much explanation. It's the word we use to refer to a specific person or thing. In contrast, the indefinite article "a" or "an" introduces a generic or unspecified noun. Demonstratives (this, that, these, those*) are used to indicate a particular item and they come in two varieties: proximal and distal. The choice between proximal and distal, depends on a frame of reference that can be spatial, i.e. a consideration of the object's physical location in relation to the speaker, or more abstract, for example how long ago something was referred to by the speaker or writer.
It is in this abstract frame of reference that my suspected difference between German and English is found, with a slight increased preference for the definite article in the former, where the latter might opt for a deictic demonstrative. My linguistic hunch may be entirely wrong as I've been unable to find any reference to it elsewhere, but at least I know how to describe the hypothesis now.
*Footnote: My one disappointment with English demonstratives is that the archaic yon and yonder have fallen out of use!