According to a survey by the British Council, Latin is only taught at key stage 3 in 2.7% of the UK's state schools compared to 49% of independent schools. Does it matter? The UK government thinks it does and has launched the Latin Excellence Programme to "level up opportunities for state secondary school pupils".
Unsurprisingly, classicist Mary Beard is thrilled at the new £4 million programme aimed at increasing take-up of Latin in the state school sector, describing the subject as "mind-expanding and fun". She is keen to overhaul Latin's reputation as being "only for posh white boys". The government cites the relevance of Latin to other language learning and its influence on English as key benefits of studying the subject. Classics students also gain an understanding of ancient civilisations and their political systems and philosophical beliefs, which still shape our society today.
However, the scheme has attracted criticism with opponents questioning the government's priorities given the continuing fall in student numbers for modern languages. In addition, Michael Rosen is one of many to wonder if closing the gap between private and state schools might not be more successfully achieved by focusing on class sizes.
Meanwhile, Princeton University in the USA has taken a rather different approach to promoting greater social diversity among Classics students by dropping the requirement to study either Latin or Greek to receive a degree in this subject. Their website announces that they want to "create opportunities for the advancement of students and (future) colleagues from historically underrepresented backgrounds within the discipline." Linguist John McWhorter has criticised the decision, suggesting that the new policy "presumes the existence of various potential contributions that classics students knowing no Latin or Greek could have been making to classroom discussions before now". He wonders whether the decision is an overly rushed response to calls for racial equity across America.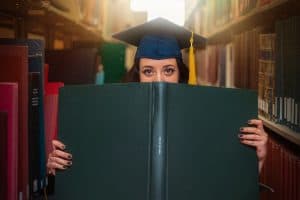 McWhorter acknowledges the difficulty of attracting students who may not have had the opportunity to study Latin or Greek at school but feels that can be addressed with judicious admissions policies. The wisdom of making the language component optional in a degree that depends on careful interpretation of the texts remains to be seen.
I am reminded of the most reluctant fictional student of Latin, schoolboy Nigel Molesworth created by Geoffrey Willans and brought to life by illustrator Ronald Searle. In a bid to avoid doing any studying, Molesworth seeks to distract the teacher by asking "What is the use of latin sir? In Molesworth's idiosyncratic writing style (which I promise to return to in a future blog) he describes the schoolmaster's anxious response to this vexed question: he "clutches the board ruber but he knos he is beaten this one always rouses the mob".
Sources
How to be topp by Geoffrey Willans and Ronald Searle (1954)