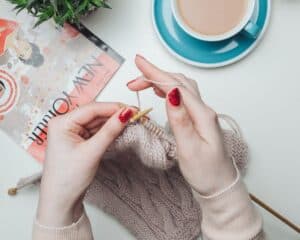 As an avid knitter and occasional crocheter, I was really excited recently to deploy my yarn-related knowledge to translating knitting patterns for a publishing company.
Technique
The target audience for the translated patterns was very much the general crafter and hobby knitter rather than an advanced fairisle sock knitting maestro. So the first thing to translate was a set of generic "how to knit" instructions which covered basic skills such as casting on, knitting, purling, decreasing and increasing. This presented an immediate non-linguistic challenge because English knitters use a different technique to continental knitters. English knitters hold the working yarn in their right hand and "throw" it around the needle, whereas continental knitters hold the yarn in their left hand and "pick" it up using the right needle. I have taught myself both styles, which is useful when you are knitting in two colours (e.g. for fairisle patterns) because you can hold one strand in each hand and knit without interruption using alternating hands, as required.
But for a beginner this entire section needed reworking with new photographs to accommodate the traditional English technique: a job for the overall book editor, but something for the knit-savvy translator to flag up and assist with. The classic cast-on techniques used in the UK and on the continent also differ, with the UK beginner generally being encouraged to use a simple "knitted cast on", whereas the German text immediately tackled the arguably more complex "long-tail cast on".
Skill level
This brings us to the next area where I noticed a contrasting style between German and English knitting patterns: the skill level expected from a beginner knitter. One of the patterns I worked on was for a very basic baby hat, aimed at someone with minimal or no knitting expertise. And yet the German author had written the pattern to be "knitted in the round" (on multiple double pointed needles or on a circular needle). Almost all beginner English patterns would be written with the piece to be worked flat (back and forth along a single needle) and then sewn up at the end to create a round hat. I was interested, and quite impressed, at the German expectations for beginner knitters. Knitting in the round is not complex and yet English pattern writers tend to reserve this for more experienced knitters.
This reminded me of an account of a Danish sock pattern, in which the author was so confident of their audience's familiarity with basic sock knitting skills that, after detailing the stitch construction required for the leg section, the pattern simply stated "and now turn the heel". Equivalent English patterns would certainly contain many lines of text specifying exactly how to achieve this.
Terminology
Plenty of glossaries exist which cover common English and German knitting terms and the knit and crochet website Ravelry (an indispensable community for yarn addicts) also has some guidance on pattern translation. But when it comes to abbreviations, different languages have different approaches and I found that the entire abbreviations key for the German patterns needed reworking for English. For instance, the German specified "LL = Lauflänge", to indicate meterage, but English doesn't have an equivalent abbreviation so this item needed removing. By contrast, the single German abbreviation "zus-str" for "knit together", which is preceded by "links" or "rechts" to indicate "purl" or "knit", requires two equivalent abbreviations in English "k2tog" for knit two together and "p2tog" for purl two together.
Testing
Finally, when translating knitting or crochet patterns nothing beats testing them out yourself. When it came to verifying the translation for a crocheted advent star festive decoration, I found that picking up my crochet hook and following my translated instructions was a fun way to guarantee that nothing had gone awry in the conversion from German to English.