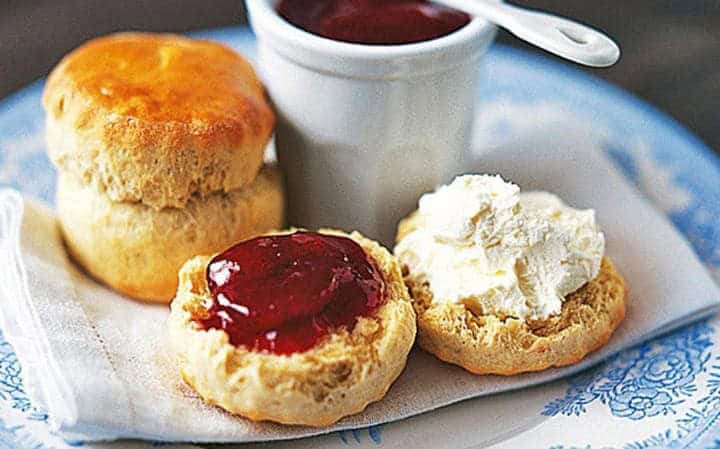 What could be more British than an afternoon cup of tea and a scone with jam and cream? Visitors to Britain need to be aware that this innocent baked item is the source of all sorts of contentious debate: jam or cream first, double cream or clotted, is it /skəʊn/ or /skɒn/, not to mention should it be infested with raisins and the like or served plain.
The Guardian How to Eat column has a splendid guide to the culinary ins and outs of the various scone options, including a threat to unleash the "hounds of fury" on anyone who dares insert a glacé cherry in this national treasure (followed by a very British acknowledgement that "if you are British, unleashing the hounds of fury will involve a considerable amount of sighing, muttering and then, at the till, when asked how everything was, a cheery: "Oh, it was lovely, thank you.")
But I digress – in this blog post I will steer clear of the toppings debate (although clearly it should be cream first, jam second) and I better not confess that I have been known to pop the odd raisin into my home-baked scones (never a glacé cherry though, heaven forbid). Here I'm more interested in the linguistic tussle over the pronunciation of scone. This delightful poem sums up the dilemma:
I asked the maid in dulcet tone
To order me a buttered scone;
The silly girl has been and gone
And ordered me a buttered scone
The Cambridge Department of Theoretical and Applied Linguistics has devised an app to investigate regional variations in pronunciation across Britain and "scone" was one of their target words. Their app (still available for download) asks you to choose the "correct" pronunciation for dozens of common English words. The results are then collated to build a database of English pronunciation variations. For added entertainment the app will take a guess at where you grew up based on your responses.
I successfully confused it with my Welsh childhood but resolutely southern English accent. The results gathered using the app show that we are potentially losing the wide variety of accents which characterise the different British regions. Over the years the generic South East England accent seems to be spreading its influence into other areas.
As for the pronunciation of scone, the data were visualised in the gloriously titled "Great British Scone Map" which revealed an interesting north-south divide, with the north preferring the "rhymes-with-gone" pronunciation and the south favouring "rhymes with cone".
Contrary to the popular belief that posh toffs prefer /skəʊnz/ while the plebs eat /skɒnz/, the Cambridge team have revealed the nation's pronunciation preferences to be more geographical in nature. And while the South East England accent may be winning out over other regional varieties in general, when it comes to the cream tea the north is staging a fight back with "scone-rhymes-with-gone" being the majority pronunciation.
Finally, if all this has made you hungry and you fancy rustling up some of your own, look no further than Felicity Cloake's magnificent recipe taste testing (see link below).
Sources
https://en.wikipedia.org/wiki/Sconehttp://www.independent.co.uk/news/uk/home-news/an-increasing-number-of-british-people-dont-pronounce-the-word-three-properly-these-maps-explain-why-a7079976.html
http://bigthink.com/strange-maps/the-great-scone-map-of-the-uk-and-ireland
https://www.theguardian.com/lifeandstyle/wordofmouth/2010/apr/22/how-to-make-perfect-scones