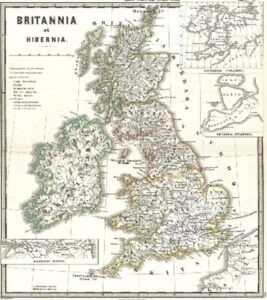 Over the last few months, several news stories about language in the UK have caught my eye and prompted me to wonder if there is a renewed interest in some of the country's older linguistic heritage, particularly around the geographical margins.
In Alderney, the northernmost of the inhabited Channel Islands, a mother and daughter team have created a set of stamps celebrating Alderney French, also known as Aoeur'gnaeux. This language is based on Norman French and is no longer spoken fluently by contemporary inhabitants of the island. Josie and Sally Pond's project was inspired by the work of Alderney resident Mr Raymond, a teacher, who described himself rather wonderfully as "the last rememberer" of the language. After his death, Sally Pond was determined to continue his work collecting Aoeur'gnaeux vocabulary with the aim of producing a dictionary of Alderney patois.
In Cornwall, online courses and apps have apparently been boosting interest in learning the Cornish language, which died out in the late 18th century. In a report for BBC Radio Cornwall, journalist Martha Dixon describes how the Covid-19 pandemic provided increased opportunities for people to study the language from their own home. Meanwhile, the Go Cornish project has rolled out in 28 primary schools to stimulate interest and awareness of the Cornish language among the next generation.
Technology is also involved in another fascinating UK language project, with an MRI scanner in Aberdeen being given a £1.2 million upgrade to include multiple language options, including the north east Scotland dialect of Doric. The idea behind the project is that if patients hear instructions in a familiar language or dialect, it will help them feel more relaxed during what can be stressful medical procedure. And the language options go beyond the local dialect, with French, Spanish, Russian, Arabic and Mandarin also among the choices available.
Finally, a project based in Wales is using a novel approach to explore ways to help people learn languages. Parents enrolled in the project are being encouraged to record the way they talk to their babies, and the phrases and vocabulary they use are being compiled for use as a learning tool for adults learning Welsh. The idea is that the specific style of language used by parents with their children, often called 'parentese', may be invaluable in helping foreign language learners, not just in Welsh but any language. Classic characteristics of parentese include slower speech, exaggerated intonation, repetition and a different choice of vocabulary and phrases from the standard language used among adults.  Welsh-speaking parents can contribute words they use with their babies and children at the website for the Welsh-medium nursery provider Mudiad Meithrin.