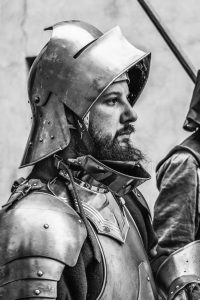 "Freelance translator": it's hardly a thrilling job description. Imagine how much more exciting it would be to have "Knight adventurer" printed on your business cards. And a tweet by Susie Dent suggests that this is precisely the origin of the now mundanely used freelancer: "a knight-adventurer who used his lance for anyone who paid him". As so often with etymology, the exact origins of the word are somewhat disputed, but if there's a romantic, exciting back-story as an option, why not indulge a little? The historical site http://www.ancientpages.com/ traces the word "freelancer" back to the fourteenth and sixteenth century when "medieval mercenary knights with no particular allegiance would take their lances into battle for the prince or state that paid them the most money". Sounds pretty much like freelance translation work!
Other job titles routinely used today also have rather more exciting origins. Secretary, for instance, is derived from the Latin "secretarius", meaning confidential officer, or 'keeper of secrets'. Disappointingly, certain jobs with more exotic names have since become obsolete – what a shame we apparently no longer have a need for "knocknobblers", a 'person engaged by a church to eject unruly dogs and children from acts of worship'. And "mushroom fakers", Victorian umbrella makers, have also long since disappeared from our streets.
Slang job titles also offer up some lovely linguistic quirks. Who could fail to delight in the term "ink jerker" for a poor quality journalist? Or the wonderful "pettifogger" for an inferior lawyer. Or what about "tide waiter" for customs inspector? Slightly less obvious in meaning, but nonetheless linguistically charming, is the now obsolete "snobscat" for a cobbler. But there's no mistaking the origins of the slang terms "leech" or "sawbones" for a doctor!
Parents will surely sympathise with the straightforward choice of "child wrangler"; used in the film industry to describe the person responsible for child actors on set. This is reminiscent of a Haggard Hawks favourite "cilda-hyrde", which is an Old English word for teacher, meaning literally "child herder". Meanwhile, back in the film industry the "animal wrangler" does what you might expect, but the "python wrangler" is actually an employee in the sound department and gets their title from dealing with cables and wiring.
All this makes me think we could certainly get a lot more creative with our 21st century job titles.
Sources
https://twitter.com/susie_dent/status/937954114159423489
http://www.ancientpages.com/2016/02/25/the-word-freelancer-originates-from-medieval-mercenary-knights/
https://twitter.com/haggardhawks/status/750224702799421440
http://mentalfloss.com/article/50626/11-strange-movie-job-titles%E2%80%94explained