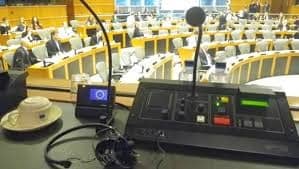 Interpreting is a skill. Just because you speak more than one language does not mean that you are an interpreter. Training to be a consecutive, simultaneous or liaison interpreter takes years of education, work experience and continual professional development. Interpreters have many avenues for work; the corporate sector, public sector, entertainment and leisure industry. There is also the option of working for one of the European Institutions.
The European parliament, the European Commission and the Court of Justice for the European Union all have their own interpreting departments so there is much need for skilled linguists. They employ staff and freelance interpreters for all the languages of the EU. But what is it all about?
Conference interpreting
Inherently interpreting is about oral communication. Rendering something transmitted orally in one language into another. This is not to be confused with translation, which is for written texts.
Conference interpreting is exactly that, interpreting during a conference that is being attended by people of many different countries speaking different languages. The role of the interpreter is to enable them to understand the proceedings, what is being presented/discussed and to communicate with one another.
During a conference there may either be consecutive interpreting (interpreting in chunks once a speaker has finished) or simultaneous interpreting (interpreting whilst the person is speaking). Each requires different skills and lots of practice!
Working conditions
As you can see in the picture above the interpreter sits above the delegates in a booth, with microphone and headset equipment for them to use. The delegates will 'tune-in' from their headsets to listen to the interpreter (s) interpreting into their language.
Usually, interpreters will work in 20-30 minute intervals, and swap with a colleague, so not to tire too easily. They can spend up to 10 hours a day in the booth during long conferences/assemblies.
Freelancers can charge upwards of 300EUR a day for their services (depending on language combinations and experience).
Languages
The EU has 24 official and working languages meaning that any one has the right to access EU documentation in their own language and to speak their own language when participating in an EU meeting.
The EU currently employs over 1750 linguists and 600 support staff as well as 600 full-time and 3000 freelance interpreters.
Interpreters interpret from their passive language (s) into their active language (usually their native/mother tongue).
Qualifications
To work for the EU institutions you need at least 2 European languages (in addition to your mother tongue), ideally more! They look for interpreters who have a bachelor's degree, postgraduate qualification in conference interpreting and experience working as an interpreter.
To apply, interpreters need to prove their qualifications and then to pass an accreditation test set by the institutions.
Why become a conference interpreter for the EU?
You can interpret for world leaders, heads of state and government
Learn new words everyday and discover interesting facts about the EU
You get to travel and experience different cultures
You are able to share your passion for languages and communication with others
You can bridge the gap between different cultures, nationalities and language backgrounds
Here at Rosetta Translation we also provide interpreting services and can find the best fit interpreter whatever your event. We also have a lot of information about careers in languages, click here to read more.
Resources
http://ec.europa.eu/dgs/scic/become-an-interpreter/index_en.htm