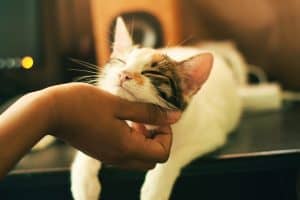 Translating idioms is a tricky business at the best of times. But even greater caution is needed when a saying is almost identical in the source and target language. I was on my second proofread through an English translation before I realised that I had referred to a cat having seven lives. It had never occurred to me before that English cats have a distinct advantage over their German counterparts, with nine lives to play with rather than a measly seven. Closer investigation revealed that Northern German cats may have wangled a couple of bonus lives too. Apparently Spanish, Italian and Greek cats are in the seven lives category, while Turkish and Arabic tradition reduces feline life expectancy to six lives. Numbers and their association with luck or good fortune clearly influence many of these sayings and may explain some of this regional and linguistic variation. How many lives does a cat have? Well, it patently depends on the language (and dialect). Who knew…
A similar phenomenon occurs for the German phrase "auf Wolke sieben schweben", which is literally "floating on cloud seven" but more commonly translated in English as being "on cloud nine". Some claim the original English phrase also refers to the number seven, but this is by no means certain and there may simply be some confusion with the phrase "seventh heaven", which relates to religious cosmology and the concept of seven levels of heaven. The number seven here may also relate to the seven celestial bodies: the sun, moon, Mercury, Venus, Mars, Jupiter and Saturn. Others think the reference links to the seven stars (if you only count the brightest ones) in the constellations of Orion, the Big Dipper, Little Dipper and the Seven Sisters.
There is a charming, if possibly far-fetched, explanation of the "cloud nine" idiom that references the International Cloud-Atlas, a cloud classification system published in 1895. In this system, there are ten types of clouds, with cloud nine being cumulonimbus. These are typically tall, towering cloud formations, reaching altitudes of 9,000 metres or more. Hence the concept of being on a high cloud or "on top of the world".
Finally, my exploration of numbers in idioms brought me to the English phrase "six of one, half a dozen of the other", meaning that two things are effectively the same or that two alternatives are equivalent. Mandarin has a nice numbered equivalent 半斤八兩, meaning "half a catty or eight taels" and referring to an ancient system of Chinese weights. I rather liked the maths involved in the Czech saying "jeden za osmnáct, druhý bez dvou za dvacet" (the first is eighteen, the latter is twenty minus two). Meanwhile, Hungarian opts for a slightly different calculation "egyik tizenkilenc, másik egy híján húsz" (one of them is nineteen, the other is one short of twenty).
Sources
http://blog.donquijote.org/2019/04/cats-multiple-lives-infinite-expressions
https://www.thetimes.co.uk/article/weather-eye-7ftq5tvd2
https://en.wiktionary.org/wiki/six_of_one,_half_a_dozen_of_the_other#Translations