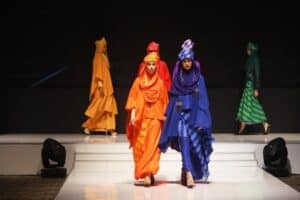 False friends are a favourite topic for linguists and translators and something this blog has covered previously, describing them as lexical con artists. In this week's blog, we immerse ourselves in the world of fashion, where false friends seem to be particularly abundant.
Fashion vocabulary in German is sprinkled with borrowings from English, and when items of vocabulary are imported into a language, they are prone to undergoing a semantic reinterpretation. For example, German uses the word "Shirt" for everything from a T-shirt to a long-sleeved top to a to a cycling jersey. In English shirt is always understood to be a relatively formal garment with a collar, with the sole variation being short and long-sleeved styles. At any rate the collar is what philosophers might consider to be an essential property of the shirt in English, and an English customer searching for a shirt online would be surprised to be presented with other garments for the upper body.
A similar semantic distinction affects the German word Bluse (blouse). In English this is usually a relatively formal garment and would certainly not be used to refer to a sports top or functional T-shirt. Just because it says "Bluse" in the original German does not mean you can merrily apply the equivalent term in English, even if the dictionary fails to suggest alternatives.
Lots of clothes in German are described as sportlich, which translators often assume simply means sporty or athletic. In German fashion, however, this term is applied to items that are very definitely not sporty. Perhaps it is a reflection of our national character that when a British person says an item of clothing is "sporty" they are referring to something that would be worn for genuine athletic activity involving exertion and perspiration, or at least a garment that looks as though it is designed for this purpose. In German, sportlich often seems to mean something more akin to "casual" or "informal".
Finally, one of my favourite clunky false friends involves the German Kultobjekt, which really shouldn't be translated as a cult object because the English term cult also has slightly negative associations with counter-cultural or unorthodox religious groups, requiring unquestioning devotion from their followers. The German term simply implies an item that is or was highly fashionable and is better captured by phrases such as design classic or style icon. A similar issue arises for the German phrase Kultfaktor, where any suggestion of frenzied religious devotion can be avoided by describing products having "a dash of style" or a "trendy vibe".