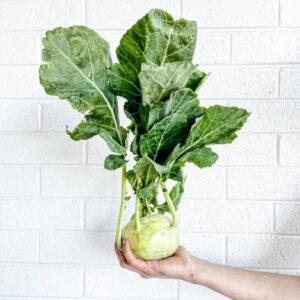 Like most translators, I have a love-hate relationship with my spell checker. I begrudgingly admit it regularly saves me from crimes against punctuation and grammar, but sometimes it has a slightly hectoring tone and other times I just downright disagree with it. For better or worse, it was the Microsoft Word spell checker that gently queried my translated recipe ingredients list containing '2 kohlrabi'. Did I not mean kohlrabies? That looked wrong to me, but a quick Google, and sure enough Merriam Webster confirmed the plural of this vegetable is kohlrabies. Cambridge Dictionaries also helpfully lists kohlrabis, which at least avoids any subconscious link with rabid mammals.
However, neither kohlrabies nor kohlrabis looked particularly elegant to me and another quick web search identified very few examples of either term in use outside the realm of lexicography. Perhaps because there is a class of English nouns that form the plural with an '-i', the word kohlrabi looked to me like a potential plural already. Admittedly, the likely singular form in this case would have been kohlrabus! One kohlrabus, two kohlrabi: you heard it here first. But far be it for me to rewrite the dictionary, so in the end I decided that "2 kohlrabi bulbs" was clearer and less likely to upset either the spell checker or the recipe reader.
I have coined this an "ugly plural" and it is far from the only example. Your tailbone, or coccyx is officially pluralised as "coccyges" but unsurprisingly the more obvious "coccyxes" is also becoming prevalent. Even this is rarely found in print, arguably because humans only have one of them, so the singular suffices for almost all contexts. A rarely encountered plural with an irregular formation is highly likely to disappear over time. The debate about octopus, octopi, octopodes and octopuses resurfaces on a regular basis with people bidding to out-pedant each other as to whether the ending should be Latinate, Greek or anglicised in form.
Sometimes foreign borrowings incorporate the source language morphology, in other instances the loanwords forge a linguistic path of their own. The US term for courgette "zucchini" is strictly speaking already plural, being based on the Italian, where the singular is zucchino. The plural in English can be formed either by leaving the loanword in its original form zucchini or with the addition of an 's' zucchinis. A similar example is found with the English borrowing of panini, to refer to a single toasted sandwich, when the singular Italian is in fact panino. Beware applying your borrowed vocabulary back in the source country or you may end up with more than you can eat!