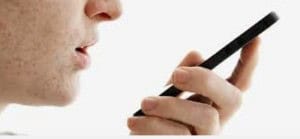 I'll confess up front that I've always been something of a sceptic when it comes to claims that speech recognition is about to become the next big thing. During my time as an academic phonetician I did a placement with a speech technology company, which specialised in providing software for use in automatic dictation systems and I wrote my PhD on computer generated speech (which is effectively speech recognition in reverse), so maybe I'm too well versed in the scale of the challenge when it comes to speech recognition. Indeed the history of speech interfaces is littered with disappointments. Or maybe it's just my old-fashioned reluctance to be caught conversing with a machine! At any rate, I may have to adjust my opinions because speech technology is developing apace and is beginning to be used for real by everyday consumers.
My first real insight into how things have moved on came via my own children. They have none of my inhibitions when it comes to "looking like a fool by talking to a computer". One of my kids has struggled mightily with spelling and she uses Siri on her iPod touch for everything from drafting text messages to friends, to Instagram posts to searching for things to watch on Netflix. The speech recognition is clearly accurate enough to be a reliable way for her to interact with her gadget. And, for her, it is quicker than typing. Siri can certainly be entertaining too – at one mealtime my then toddler son was kicking off loudly about the 'substandard' supper I had provided when suddenly the iPad stashed in a cupboard spoke up "Would you like me to search for local restaurants for you?". At least the ensuing mirth distracted him from the supposedly objectionable food!
How speech recognition is already changing our lives
An MIT technology review highlights another key factor in the development of conversational interfaces – Chinese characters pose a particular challenge for tiny touch screens, thus making China and its 691 million smartphone users the ideal audience for new speech technologies. The article describes how Baidu, the country's most popular search engine, is regularly accessed via voice interface, although it admits that most of the voice commands consist of relatively simple queries – perhaps inquiring about tomorrow's weather or pollution levels.
A recent article in The Guardian also documents evidence that we are increasingly becoming more comfortable with using voice interfaces. In May 2016 Google announced that 20% of its mobile searches were initiated by voice, and the prediction is that this will rise across all platforms to 50% by the end of the decade. The article also highlights the success of Amazon's Echo smart speaker and its digital assistant Alexa. This device was launched in the US in mid-2015 and became available to UK customers in late 2016. It responds to voice interaction enabling you to make lists, play music, request information about weather, traffic etc., and it can control other devices around the home. Maybe this truly is the tipping point where CUIs (conversational user interfaces) replace GUIs (graphical user interfaces).
A feature of all these devices (and the secret of their potential success, I might suggest) is the relatively constrained scope of the expected input. But while we are some way off having meaningful conversations with our digital companions, even I can see the attraction of being able to talk to your TV rather than hunting for the remote control down the side of the sofa.