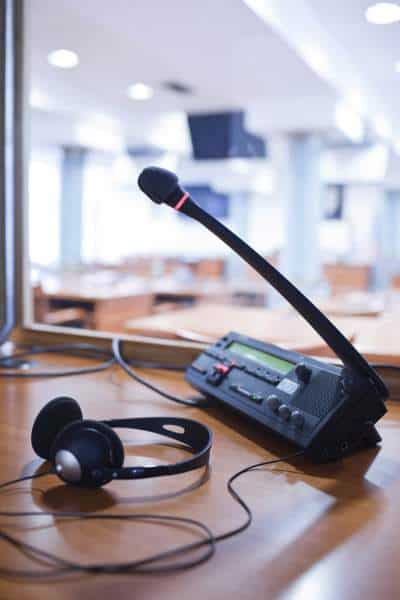 In the same way that being able to speak two or more languages doesn't automatically qualify you as a translator, the same applies to being an interpreter. Interpreting requires many skills such as the ability to present yourself well and speak publicly, being quick thinking and responsive, and having a thorough understanding of the languages and cultures you are interpreting in. You will also need to have a good memory and note taking skills in order to recall all of what needs to be interpreted.
Where can I interpret?
There are many situations in which interpreting is used; business meetings, conferences, court hearings, interviews, medical appointments etc. Each requires a different method of interpreting and therefore different skills and training. There are some in-house positions, but most interpreters work on a freelance basis and can build up their own client base.
Is it right for me?
You will need to be able to think on your feet, be diplomatic and be able to distance yourself from the situations you find yourself in. It might be that you have to interpret for a particularly upsetting medical appointment or in a difficult court case. As an interpreter you have to remain impartial and objective at all times.
How do I start?
Training is crucial, because in addition to your language skills you will also need the relevant experience in the mode of interpreting you choose to focus on. Some interpreters can do more than one mode of interpreting. Below is a list of the different types of interpreting:
Consecutive interpreting: For a medium sized group of people an interpreter will listen to a presentation or speaker for a few minutes, will usually make notes and then reformulate in the target language what has been said.
Liaison interpreting: Used in small group or one-on-one situations, for example an interview or as a guide for someone. The interpreter will translate a couple of phrases at a time, usually as part of a conversation.
Simultaneous interpreting: this is done in 'real-time', the interpreter will listen to what is being said and will simultaneously relay this in another language. This is usually with the help of electronic equipment (booth, microphone, headphones etc). This is what is used in UN conferences and meetings, for example.
Telephone interpreting: For teleconferences or situations where the parties involved cannot be physically present, this flexible form of interpreting involves the use of a 3-way phone conversation with the interpreter interpreting a couple of sentences of the conversation at a time.
Whispered or 'chuchotage': This is a form of simultaneous interpreting where the interpreter is either sitting behind or amongst a group of people and whispers what is being said to the non-native speakers. This is only really suitable for small groups in quiet environments.
Several universities offer interpreting qualifications, the Chartered Institute of Linguists also offer diplomas in Public Service and Police Interpreting. You will need to have a recognised before working with most translation companies or potential employers. Being a member of the ITI or IOL will also show you have the stamp of approval. Gaining experience and confidence in this profession will stand you in good stead for a successful career as an interpreter.