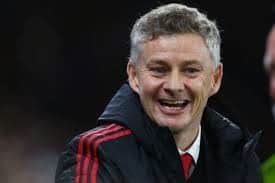 If you follow the English Premier League you'll be familiar with the fluctuating fortunes of Manchester United this season. After a disappointing autumn under manager Jose Mourinho, the club brought in former player, and all round cheerful chappy, Ole Gunnar Solskjær to try to steady the ship. His initial months as interim manager certainly brought about a change of fortune in terms of results as he revived an entertaining, attacking style of play. But more importantly for the linguist, his press conferences and post-match interviews offered up his delightful blended Mancunian-Norwegian accent.
Solskjær spent over a decade as a player for Manchester United, no doubt honing his finest Manc phonology alongside his footballing skills while he was there. His managerial career took him briefly (and unsuccessfully) to Cardiff, but his 9 month stint in South Wales doesn't appear to have allowed him to absorb any Welsh influence in his speech. He subsequently returned to Norway to manage the club Molde before the call came offering him a the interim manager role at Manchester United.
From a psychological perspective, his impeccable local accent certainly seems to have further cemented his popularity with United fans. His distinctive shortened vowels (e.g. in "pass") and his mastery of the classic unstressed vowels at the end of words (such as in "happY") are like a signal to the club's fans that he is one of them, a local boy, committed to the Manchester United cause. He retains just the odd Norwegian flourish to remind you of his true roots.
Having been an avid Liverpool supporter all my life, I've rarely found myself rooting for the "other reds", but it's hard not to be a bit won over by Solskjær's linguistic fusion of Mancunian and Norwegian. And it immediately brought back memories of Jan Molby's legendary scouse with a hint of Danish.
It's well known that accent influences our perception of a person and that even with the best of intentions it is hard to avoid prejudice. Research has shown that an RP accent generally gives British English speakers the most favourable start, but it seems to me that the last thing a United fan would want is a manager speaking the Queen's English. Another club stalwart and former player Peter Schmeichel also has a pretty impressive Mancunian lilt to his English. So perhaps that would do him no harm if he did fancy a return to his old club in a director of football role, as was rumoured recently. With a Solskjær-Schmeichel dream team, phoneticians could delight in analysing the subtle differences between Norwegian and Danish Manc!
Sources
https://en.wikipedia.org/wiki/Ole_Gunnar_Solskj%C3%A6r
https://www.britishcouncil.org/voices-magazine/uk-accents-not-what-you-say-how-you-say-it
https://www.independent.co.uk/sport/football/premier-league/manchester-united-news-peter-schmeichel-director-of-football-ole-gunnar-solskjaer-a8696981.html