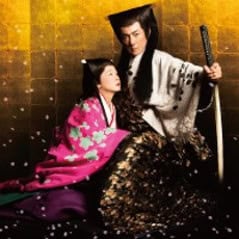 Cinema audiences are familiar with watching subtitled films, and the recent wave of Scandinavian crime dramas have brought subtitled television shows into the mainstream. Opera audiences have surtitles to help them follow the action, either because the production is in a foreign language or, at English National Opera for instance, in recognition that the sung word is hard to understand even in your own tongue. However, I had not come across subtitling at the theatre until I went recently to a Japanese production of Macbeth at the Barbican. I confess, I wasn't entirely sure of the wisdom of my decision beforehand. Shakespeare is surely all about the language? But I was tempted in by the rave reviews for this revival of a 30 year old production, plus I have a teenage daughter who is studying Macbeth for GCSE and teaching herself Japanese in her spare time.
What an experience. The elegance and power of the production brought something to the story which transcended language. I soon forgot that I was following a play in a language I have no understanding of. Both Banquo's death and the scenes with the witches owe a debt to Japanese kabuki theatre – with stylised dance and tumbling gymnastics. The use of colour and costume is masterly: from the cackling witches in their fiery costumes, to the Samurai inspired outfits for members of the royal court and the black clad ninja style figures who do away with Banquo.
Throughout the play, visual imagery adds resonance to Shakespeare's words. In the first liaison between this Japanese Macbeth and his wife after Duncan's murder, red light seeps between the black slatted screen in the background evoking bloodstained fingers. Lady Macbeth is dressed in blood red and regal purple. By now her husband has a better grip on his emotions and he is wearing a restrained and elegant cherry blossom cloak. Macbeth urges her of the need to conceal their internal anguish, saying: "make our faces vizards to our hearts". The scene ends with him draping her in a cherry blossom cloak like his own. Later, as Lady Macbeth sleepwalks and loses her mind, her inability to conceal her inner turmoil is symbolised by her discarding the cloak.
Cherry blossom recurs as a leitmotif and a reminder of the Japanese setting. At moments of high emotion petals tumble from the sky like snow. As the surtitles relay Macduff's heart-breaking speech on learning of the slaughter of his wife and children, the impact of his words is almost heightened by being separated from the spoken delivery. Barber's Adagio for Strings is another returning theme, providing a connecting thread which goes beyond language. It plays as Macbeth is told of his wife's death and, here again, the famous "Tomorrow and tomorrow …" soliloquy seems even more unbearably moving for being delivered in digital surtitle form as the Japanese is spoken to the accompaniment of Barber's string harmonies.
Unfortunately the limited tour of this production has ended in the UK, although dates are under discussion for a visit to Singapore. The director Ninagawa, who died in May 2016, created several other renowned productions of Shakespeare's plays as well as Greek tragedies. I hope the sell-out audiences for Macbeth will encourage someone to consider foreign tours for some of his other theatre work.
Sources
http://www.telegraph.co.uk/theatre/what-to-see/japanese-macbeth-world-barbican-review/
https://www.theguardian.com/stage/2017/oct/06/macbeth-review-ninagawa-samurai-shakespeare-1985-production-barbican-london