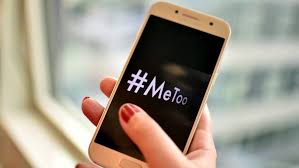 The BBC Radio 4 series "Keywords for our time" examines key phrases currently in use in public debate and political culture. In a recent programme, Helen Lewis, deputy editor of the New Statesman, took a look at the "MeToo" hashtag which really hit public consciousness in October 2017 following the Harvey Weinstein revelations. Actress Alyssa Milano lit the initial fuse, tweeting: "If all the women who have been sexually harassed or assaulted wrote 'me too' as a status, we might give people a sense of the magnitude of the problem".  What began as a handful of actresses disclosing abusive behaviour by a single man soon snowballed into a mass outpouring of solidarity with 1.7 million tweets including #MeToo within one week of Milano's statement.
The phrase itself dates back to 2006 and was coined by Tarana Burke, an American civil rights activist working with survivors of sexual abuse. The choice of language was specifically intended to raise awareness of the pervasiveness of their experience in society in general.
In the "Keywords" programme, Helen Lewis debates both the linguistic power of #MeToo and its inherent weakness. Its popularity must be credited, at least in part, to its simplicity.  The phrase makes an immediate impact because it is so succinct. The words are also innocuous enough to have a broad appeal. Think how much easier it is to say #MeToo compared with #IWasRaped or #IWasGroped, both of which are far more specific. Our squeamishness around the details of sexual assault almost certainly mean that anything more graphic would not have had the same appeal or uptake. Interestingly France did dabble with a rather more robust expression (in addition to #MoiAussi), with Twitter users adopting the hashtag #BalanceTonPorc (expose your pig) which promises to actually identify the abuser.
But it is the very lack of detail and the almost blandness of #MeToo which allowed it to be embraced on such a massive scale. And while Lewis acknowledges that it served as a powerful introduction to a long overdue conversation about interactions between the sexes, she also questions whether there is a danger that it airbrushes away the brutality of what is happening. It makes it easier to speak out, but diminishes the power of the confession. It allows individuals to put themselves at the centre of a big political story without revealing anything too specific. Sally Hughes has written an excellent piece for The Pool arguing that #MeToo doesn't have to be either universally good or uniformly bad. She reflects on our desire for things to be black and white and looks back on the #MeToo-inspired black outfits protest at the Oscars, concluding "It was something – just another piece in a jigsaw. It wasn't everything and nowhere near enough."
As a slogan, #MeToo seems at least temporarily to have provided a voice for women in a way which wasn't available before. As Lewis concludes, "the probability of a woman's claims being dismissed shifted in favour of her being listened to." It is probably no coincidence that there has been a parallel debate about gender equality when it comes to pay. Sometimes relatively innocuous language is the best way to open a door, but the really interesting question is, what happens next?
Sources
https://www.the-pool.com/news-views/opinion/2018/13/sali-hughes-on-the-merits-of-uncertainty-and-saying-i-don-t-know