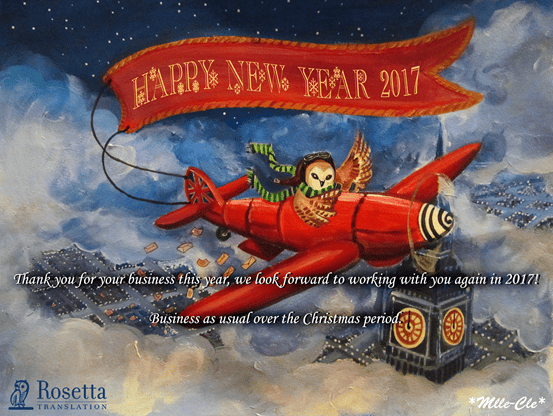 Thanks to Clemence Billiard for producing our fantastic holiday image once again this year.
Every year for us here at Rosetta Translation is as exciting and busy as the last. 2016 has certainly been no exception and, as we enter the month of December, it is a time for us to reflect on everything we have achieved individually as employees and together as a company.
US expansion
2016 saw the opening of our fully operational US office in Troy, Michigan. Isabel Fernandez, a long standing trusted translator for Rosetta, joined the team as the US lead in Michigan. She has stepped up to the role and has been taking care of our US based clients for the majority of this year.
Having a full-time presence in the US has meant a more comprehensive coverage of services for the Rosetta team, as we can now be online to cover more time zones. The US office has been a perfect complement to our existing thriving London and Shanghai bases.
Staff Progression
This year has been a huge year for changes in leading political parties and management of state decisions. This has also been the case for our company. The head of our London office, Berengère Gayon, left Rosetta Translation. She had been the longest serving employee of 9 years and contributed greatly to the running of the London office. She will be missed, but we wish her all the best in the next chapter of her career.
2016 was also a year for promotions: Annabelle Payet was promoted to Senior Marketing and Key Account Manager and Viktorija Zaurakaite-Houhou to Senior Account Manager.
Our Sales team continues to grow with the success of the company and we now have 4 full members of staff. The team is also assisted by a sales intern to accommodate the increasing number of clients, brought to the team by our Senior BDM David Southwell.
New Digs
Autumn saw us leaving our offices on Cheapside to our new location in Whitechapel. The move was a welcome change to a new vibrant working space more in line with our company ethos. You can read more about our move here. If you haven't yet had a chance to come and visit us, please do, we'd be happy to see you!
Exhibitions and more
Rosetta Translation was proud to be an exhibitor at Law London 2016 in October as well as LawBizTech. Both events were highly successful and we look forward to building on the relationships established there.  Our team members have taken full advantages of both occasions to spread the word about Rosetta Translation and how we can assist a wide variety of clients with their language services.
2017 and beyond
Though we do like to look back on what we have achieved over the year we also look forward to what is to come next year. We will continue to develop our US office and build on the success we have already seen there. We also plan to expand the back office we have in Manila to include a DTP department and project management support for both our Europe and US offices. This will mean we can continue to span geographical locations and provide a 24-hour service to all of our clients, with increased DTP capacity.
Following on from the success of our presence at exhibitions this year we plan to exhibit at more next year. We hope to meet you at one of them, perhaps!
Thank you
As the year draws to a close we like to extend our thanks both to our hard working, dedicated staff and to all of our clients new and old!
Eric Fixmer, Managing Director, would like to add: "2016 has been quite an eventful year with a fresh management team and London office. With the new developments and objectives in the pipeline, 2017 will definitely be an exciting one!"