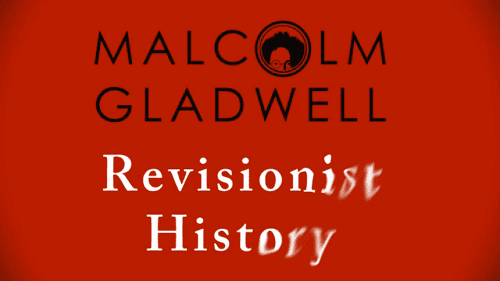 Have you discovered the Revisionist History podcast by Malcolm Gladwell yet? It's a series in which he looks back at things in history which have been "overlooked or misunderstood". Most of the episodes are completely independent, so you can dive in wherever you fancy in the three series released so far. Often the most innocuous episode title reveals little about the magnitude of the tale which will unfold. A great starting place is Season 1, episode 4, "Carlos doesn't remember". A powerful, personal tale of the failure of meritocracy and the human impact of an education system which fails to reward the disadvantaged. Or maybe you could delve into Gladwell's reassessment of one of the iconic photographs from the civil rights movement in the early 1960s; Season 2, episode 4 "The foot soldier of Birmingham".
But to bring matters back to all things language-related, you need to turn to the first episode in the latest series, where Gladwell explores in depth a particular semicolon buried deep in the US constitution. If that doesn't sound like fun, the tale takes in a bunch of Texan Democrats hiding out in a motel in Ardmore, Oklahoma to avoid arrest warrants which had been issued to force them to vote on a potential redrawing of the electoral boundaries being proposed by the Republicans. The ensuing constitutional crisis triggered a state-wide manhunt, the involvement of homeland security and the attention of the international press. As Gladwell puts it "punctuation matters".
His investigation begins with Prof. Michael Stokes Paulson, a visiting scholar at Princeton University who published an obscure legal paper back in 2004 which looks at the provisions for "sub-division", that is the potential to create new states within existing states under the US constitution. His conclusions, Gladwell suggests, have the potential to turn American politics upside down. If the proposed sub-division of the electoral district of Texas were to be legitimate, Gladwell is convinced it could have a profound impact on the balance of power in the US Senate.
When Paulson is asked what the initial response to his paper was back in 2004, his wry answer is "thundering silence"! Gladwell's podcast sits at #3 in the US podcast downloads chart at the time of writing, so with this kind of audience, maybe Paulson's semicolon will finally get some attention. Indeed Gladwell suggests a degree of nervousness in even opening this particular can of linguistic worms: "I'm running a podcast here, not starting a revolution".
The ensuing analysis and hypothesised outcome is something of a flight of fantasy, but if anyone can make epic footnotes, and arcane grammatical detail fun, it is Gladwell.
Sources
http://revisionisthistory.com/
http://www.itunescharts.net/artists/podcast/malcolm-gladwell-panoply/podcasts/revisionist-history/