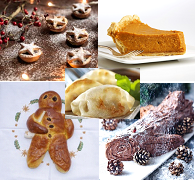 With Christmas looming this blog post encourages you to get in the kitchen and rustle up a festive treat or two. Rosetta's global offices each get an entry here with a traditional dish for each location.
London
Nothing could be more British than a mince pie with its winning combination of buttery pastry and spicy, boozy fruit. I take my mince pies seriously – don't even get me started on the shop-bought abominations. Not only do I make my own mincemeat, I make two varieties: a traditional fruit mix and a fig and orange version. The latter will forever be known in our house as "friggin' orange mince pies" after a shocked neighbour misheard me when I offered her one at a Christmas party!
Traditional mincemeat recipe: https://www.bbcgoodfood.com/recipes/13377/traditional-mincemeat
And for the mince pie itself: https://www.bbc.co.uk/food/recipes/startoppedmincepies_90618
Paris
A close second to my mince pie obsession is our family's Bûche de Noël tradition. Like many children, my own three are unimpressed with the classic British Christmas pudding, but they adore this French dessert. The recipe link below has the added bonus of suiting any gluten-free guests you might need to accommodate. Best of all you can truly indulge in some festive creativity, topping the log with as many plastic robins and holly sprigs as you please and dusting the whole affair with icing sugar snow.
Being sticklers for tradition, my children will never let me veer from Nigella's recipe. So here it is: https://www.nigella.com/recipes/yule-log
Luxembourg
Like most countries, Luxembourg has borrowed many of its Christmas food traditions and several of its neighbours have their own version of the fabulous Boxemännchen (translates literally as 'little trouser man'). This is a light yeasted brioche dough in the shape of a little man. Tradition has it that the Kleeschen (Luxembourg's Saint Nicholas) would hand out one of these baked goods to every well-behaved child.
Make your own Boxemännchen: https://www.wort.lu/en/luxembourg/anne-s-luxembourg-kitchen-a-yummy-luxembourg-christmas-5853f5bc53590682caf1648c?variant=B&utm_expid=83959466-12.SpI6vqyGSSyCfbAQ6TzOyQ.2&utm_referrer=https%3A%2F%2Fwww.google.co.uk%2F
USA
Not surprisingly, many American Christmas food traditions are inherited from Europe, but the sweet potato pie is truly their own. Its origins probably go back to African cuisine and the recipe is particularly popular in the South (I know Rosetta's offices are in Michigan, but close enough!). Like most Christmas dishes it can just as readily be cooked up for Thanksgiving, and it makes a great alternative to the more ubiquitous pumpkin pie.
Sweet potato pie recipe: https://www.washingtonpost.com/recipes/patti-labelles-sweet-potato-pie/14997/?tid=a_inl&utm_term=.86fa396b1519
China
Ok, so we are cheating slightly here and stealing a recipe from the Chinese New Year, which will be in February 2018. If you've never made Chinese dumplings, this gives you plenty of chance to hone your skills before the celebrations. Traditionally a gold coin would be hidden in one of the dumplings, in a similar way to the British custom of inserting a silver coin in the Christmas pudding. Good luck is bestowed on the finder of the coin. The jiaozi (dumplings) themselves are said to bring prosperity due to the fact that they look like gold ingots.
Jiaozi recipe: https://www.thespruce.com/jiaozi-chinese-dumplings-694504
Season's greetings and happy eating!