Do you speak footballese?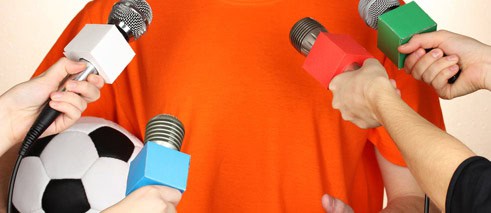 The winter months offer rich pickings for the armchair football fan with fixtures coming thick and fast and club chairmen (they are generally men) hitting the panic button and firing their managers in the hope of turning their seasons round. At the time of writing four Premier League managers have been given the elbow; a hit rate of 20% of the 20 clubs involved at the highest level of English football. One sacking in particular caught my attention from a linguistic point of view with American Bob Bradley being handed his marching orders at Swansea having been criticised in some quarters for his "inappropriate" use of US football terminology.
Swansea are now on their third manager this season which says a lot about the club's fortunes on the pitch. Italian Francesco Guidolin began the season in charge but was dismissed in October after just 9 months as the manager. Bob Bradley was a somewhat controversial replacement with many fans and pundits questioning his footballing pedigree. Matters came to a head early in December when Bradley used the American abbreviation "PK" in an interview when referring to a penalty conceded by his team. The criticism of his supposed linguistic slip came thick and fast with the Wall Street Journal commenting that Bradley had committed the cardinal sin of "sounding American while discussing soccer". Bob Bradley himself felt the need to give a robust defence of his footballing vocabulary in a follow up interview with the BBC, pointing out how footballing terms vary around the world and reflecting that his use of the very British phrase "a clean sheet" when he was working in France was met with the response "what's a clean sheet?". He concluded "you make sure your message resonates and is clear with the players, that's what counts".
The Wall Street Journal leapt to his defence, conducting a linguistic analysis of all of Bradley's pre- and post-match press conferences along with his interviews on the BBC's Saturday night highlight show, Match of the Day. Altogether they analysed 4 hours 22 minutes of footage and concluded that "more often than not, Bradley actually uses British terminology". To make this assessment they reviewed his usage of a series of British and US terms:
| | | | |
| --- | --- | --- | --- |
| Britishism | Times said | Americanism | Times said |
| Away (match) | 2 | Road (game) | 3 |
| Clean sheet | 8 | Shutout | 0 |
| Dressing room | 3 | Locker room | 0 |
| Fixtures | 3 | Schedule | 2 |
| Football | 77 | Soccer | 0 |
| Keeper | 1 | Goalie | 0 |
| Match | 35 | Game | 93 |
| Nil | 0 | Zero | 9 |
| Penalty | 5 | PK | 1 |
| Pitch | 3 | Field | 26 |
| PREM-yair | 1 | Pre-MEER | 19 |
| Shot on target | 0 | Shot on goal | 3 |
| Supporters | 16 | Fans | 4 |
| Table | 5 | Standings | 0 |
| Training | 38 | Practice | 0 |
Interestingly Bob Bradley's predecessor Francesco Guidolin barely spoke English when he began managing Swansea in January 2016 and, although there was some comment on his possible linguistic difficulties, these were rapidly dismissed by the players with Angel Rangel saying "It's football – it's not as if he's trying to teach us to fix washing machines!" and suggesting that the international language of football would win out "He makes sure he gets his message across, be it with English, Italian or just his hands!". Foreign managers in the Premier League are nothing new. Indeed in May 2016 the Daily Telegraph reported that 15 of the top 20 British clubs were under a foreign manager, but Bob Bradley was the first American to take control of a Premier League team. Perhaps the Wall Street Journal was correct when they described Bradley as being "saddled with the burden of sharing a language."
Sources
http://www.wsj.com/articles/an-american-soccer-coach-in-england-learns-to-speak-british-1482163229
http://www.walesonline.co.uk/sport/football/football-news/angel-rangel-francesco-guidolins-broken-10833964
http://www.telegraph.co.uk/football/2016/05/16/english-premier-league-managers-are-a-dying-breed/